20 Homemade Holiday Gifts To Make With Your LĒVO
'Tis the season to start thinking about gifting!
If you've got a LĒVO II, LĒVO C, or LĒVO Lux at home, skip expensive store-bought gifts and make your own at home. Each of our ideas are infused with love (and the herbs of your choice) and can be customized for your giftee.
From gourmet eats, herbal treats, and self-care staples, there's something for everyone on our homemade holiday gift list.
Here are 20 homemade holiday gifts to make with your L
Ē

VO 
Self-Care Gift Ideas 
Give the gift of soft, moisturized lips this season! This all natural recipe is adaptable based on your giftee's flavor preferences. Choose between mint, lavender, rose, vanilla, or whatever your heart desires. Get creative with it! 
Beards deserve love, too. So after a trim it's important to take care of those special hairs that make the cut. Moisturizing is key, and the combination oil base found in our moisturizing beard oil recipe can help tame unruly hairs into submission. Our #LEVOmade infusion combines dried sandalwood and lemongrass for a crisp and clean scent sure to beautify and protect the beard.
A nice, long, hot shower can cure most bad days. Add in lavender shower steamers and mmm, that's an experience. Shower steamers are like bath bombs for shower-lovers. Taking a long bath every day might not be a feasible self-care routine, but showering? Most of us already do that daily. Enhance your loved one's shower experience by gifting them these. All they need to do is place them on the shower floor and watch as they're transported to a fizzy, aromatic steam room oasis.
This moisturizing recipe can be used for both your body and lips, and who doesn't love a 2-in-1 gift? Submitted by Adriana R., owner of Fina Skincare, this recipe is simple to make and will likely become a staple in you and your giftee's handmade skincare routine. 
We've created a DIY hair growth oil perfect to make using your LĒVO. Regardless of whether you or your giftee are after hair growth or not, this is simply a great-smelling oil that will nourish scalps and soften hair. Alternatively, our friend Indigenous Strandz has created her own recipe for hair oil as well. Take a peek at her video in the post!   
Why coffee? The caffeine found in coffee typically increases blood flow and may reduce the appearance of cellulite, plus give your skin a more even tone. Similarly, cinnamon also increases blood flow and has additional anti-fungal and anti-inflammatory properties. Check it out.
Coconut oil is extremely beneficial to skin because of its natural anti-bacterial and anti-fungal properties. Make your own hydrating whipped coconut body butter with vanilla, coconut oil, and your LĒVO.
Whether you're looking for an all-natural soothing hand moisturizer, a calmly nighttime body creme, or a remedy for those pesky stretch marks, this ultra-soothing hemp flower hand and body moisturizer recipe is the perfect fit. You can use whatever herbs or essential oils you have on hand and make something luxurious right in your own kitchen!
Resembling a bar of soap, lotion bars will stay solid when kept at room temperature or lower. When applied to the skin, body heat will slightly melt the bar, allowing you to use anywhere on the body! Infused coconut oil and infused shea butter can be combined for extra herbal healing.
Foodie Gift Ideas
Why buy gourmet olive oils from the store when you can make your own at home using LĒVO II? From rosemary-infused olive oil to lemon olive oil with garlic and oregano, there are so many tasty flavor combinations to explore. Remember to dry your garden fresh herbs before you infuse to increase shelf stability. 
In addition to tasting richer and nuttier than plain ol' butter, ghee is actually healthier for you, too. Simply put, ghee is like clarified butter, but it's cooked longer to give it a deep, rich flavor and to cook away all those proteins and sugars. It's a labor of love to make and your giftee will surely feel special receiving a homemade batch. Or if you're feeling lazy, shop our perfectly packaged LĒVO Ghee instead. 
Take a queue from our friend Minty and make some lavender honey! Pair it with teas, desserts, and beyond. This gift makes a great stocking stuffer and should be stored in an airtight container in a dark, cool place for shelf-stability. Take a peek at our basic honey infusion recipe to get started. 
Cinnamon and honey? Name a better duo! This delicious recipe by our friend Kristen at Hempsley is the perfect accoutrement on our birthday pancakes and waffles, toast, dinner rolls, and more. Your giftee will love having it on hand for the holidays! 
Spice up your giftee's life with some red chili pepper oil. This delicious oil can be used in so many flavorful dishes. Drizzle it over tomatoes, spread it on toast, add it to some noodles, use it as hot sauce—the possibilities are endless. 
Magical Herb-Infused Gift Ideas 
Skip store-bought chocolate almonds and make an infused version at home. Using the same chocolate coating as our Chocolate Covered Oreos recipe, you can easily jar up some chocolate covered almonds for your family and friends. And why stop at almonds? Try different nuts, dried fruit, and beyond. The best part? You can make your infused chocolate as potent as you like. We recommend keeping the potency low so that your giftee can eat them all in one sitting. Just remember to give them instructions before they start digging in! 
One of our favorite ways to get elevated is by applying this infused hot sauce generously to... well, just about everything. And if you've got an infüsiast in your life that likes things spicy, this is the perfect gift for them. Made with love and our favorite magical herb, you can customize the flavors to make it unique to your family and friends. 
For the classic infüsiast, cereal bars edible treats are must. Show them you care by infusing with their favorite strain and making them from scratch. All you have to do is swap out the Fruity Pebbles in this recipe for Lucky Charms or whatever cereal is your giftee's favorite. 
Another easy, infused snack that makes the perfect gift is this infused chocolate peppermint bark! This festive edible treat requires zero baking, so even novice chefs can make it at home. Just grab some infused butter and the rest the ingredients and you're ready to rock 'n' roll. 
Hot chocolate bombs are all the rage and now you can make them infused! Follow our recipe to make your own at home and gift them to your family and friends. It's one of our most popular recipes, so your giftees are sure to love them. Dust or fill them with some infusion shimmer and glitter to make them extra special! 
Grab our Gummy Mix Trio Kit and spend the day making infused gummies for all of your loved ones! One package makes 64 3mL gummies with our Gummy & Candy Mold Trays, so it goes a long way! Paired with our infusion shimmer and glitter, these gummies can be made super festive with your giftee's favorite strains. 
Shop Now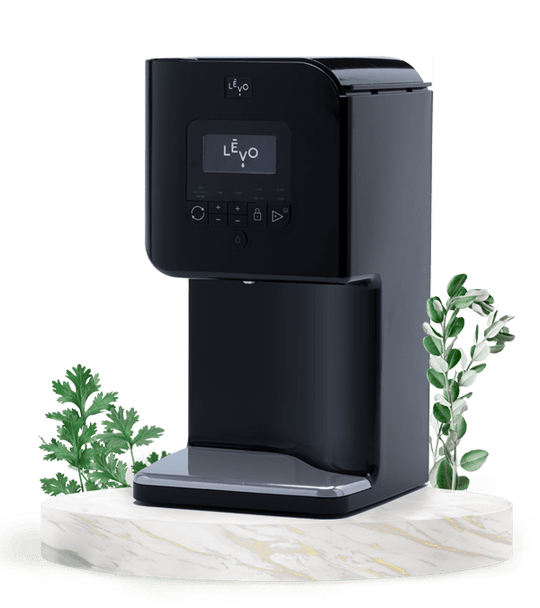 LĒVO II
The worlds first patented oil infuser that lightly dries herbs fresh from your garden, activates their maximum potency, and infuses them into just about anything. Great for daily, small batch, artisanal infusions.
SHOP LĒVO II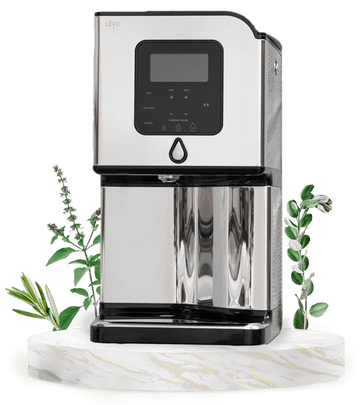 LĒVO LUX
Experience infüsionwith our most elegant, intelligent machine yet: LĒVO LUX. Artfully infuse any herb, spice, fruit, coffee bean, & more into oils, butters, and honeys to create Michelin Star-quality meals.
Shop LĒVO Lux
LĒVO C
LĒVO C is the first large batch infusing solution that is dishwasher safe, has a built-in activation cycle for maximum potency. Perfect for making large 1 liter batches for high frequency users and small businesses.
SHOP LĒVO C
LĒVO oil and butter infusers streamline the oil and butter infusion process, reduce mess, and minimize the smell of decarbing & infusing flower thanks to patented technology. With the ability to decarboxylate + infuse all-in-one machine,LĒVO is the only oil infuser of its kind.
LĒVO oil and butter infusers streamline the oil and butter infusion process, reduce mess, and minimize the smell of decarbing & infusing flower thanks to patented technology. With the ability to decarboxylate + infuse all-in-one machine,LĒVO is the only oil infuser of its kind.