If you're interested in featuring LEVO, we'd love to hear from you!
Browse our recent features
Variety Magazine
"How it works: place herbs of your choice into the machine's pods,  fill the reservoir with a mix of butter or oil and set the cooking time. Once it's done, the Levo II will dispense the infused liquids that you can use to add some extra activation to any meal or dessert."
Esquire
"For the man who'd like to take herbal chemistry—a.k.a. the science of making edibles—into his own hands."
Popular Science
"One of the knocks against making homemade edibles—beyond the ever-growing number of high-quality premade options—is infusing oil or butter with your flower, which can be a smelly operation. Levo's C is a countertop appliance makes the process easy."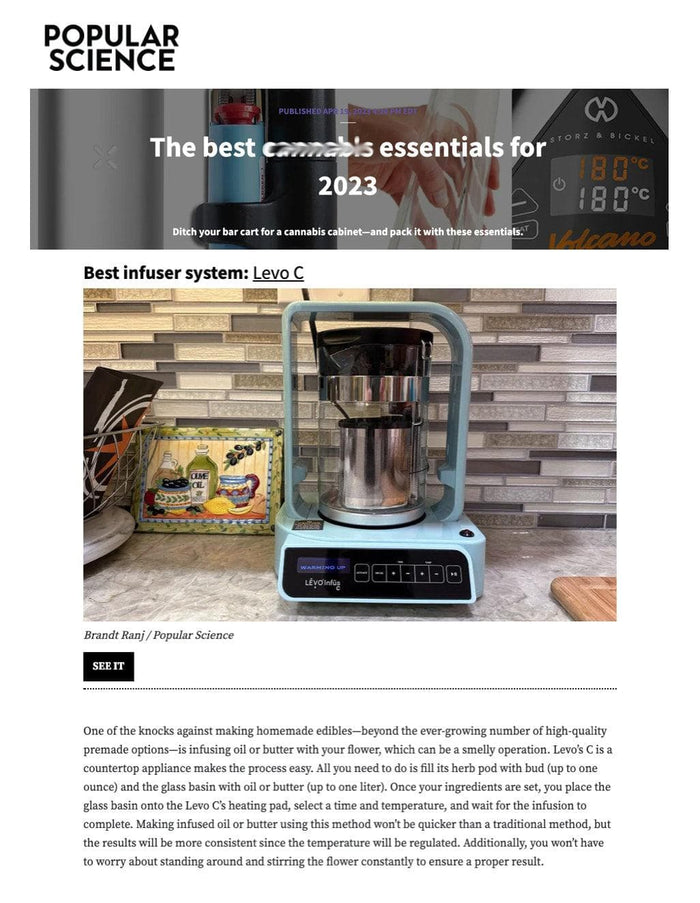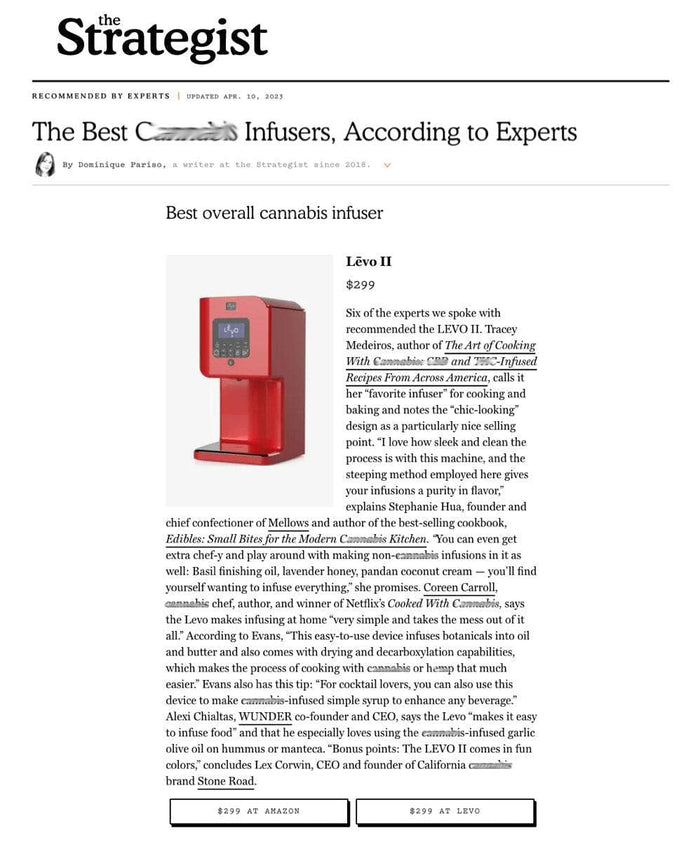 The Strategist
"Six of the experts we spoke with recommended the LEVO II... According to Evans, 'This easy-to-use device infuses botanicals into oil and butter and also comes with drying and decarboxylation capabilities, which makes the process of cooking with cannabis or hemp that much easier.'"
Good Housekeeping
"For the chefs in the family, this LEVO machine allows you to infuse herbs into things like oil, butter, honey and vegetable glycerin — all by simply pressing a few buttons. It's easy to clean and doesn't use solvents, additives or emulsifiers."
Men's Journal
"Do you have an oil infuser on your kitchen counter right now? We didn't either until recently, and we have to say that it's been one of the most flavor-enhancing tools we've ever added to our cooking regimen."
Today
"If your favorite home chef loves to experiment with flavors, consider this tasty gadget. This small appliance can be used to make everything from infused oils with classic flavors to kicked-up butter and honey, using ingredients like dried or fresh herbs, flowers and peppers."