How To Make Vegan Lip Balm
Before you grab any old chapstick to moisturize your lips, check the label! Odds are, the lip balm you're drawn to contains some ingredients you can't pronounce. And, you know what that means—it's probably not good for you, your body, or your lips. Most lip balms contain petroleum, parabens, chemical sunscreens, and other artificial ingredients. They often also contain animal products, such as beeswax and lanolin, so they're a no-go for vegans. But don't despair—there's still hope for your lips! We've got a seriously easy vegan lip balm recipe for you to try at home with a few simple ingredients. Read on to learn how to make your own vegan lip balm for healthy, eco-friendly lips.
The Benefits of Making Your Own Vegan Lip Balm
Yes, purchasing beauty products (like lip balm) is convenient, and sometimes fun. The pretty packaging, the promises of rejuvenated health, and the delicious scents are all enticing, addicting even. Yet, consuming products made in a lab might not be the best choice for your health, or your wallet. 
We're not here to open a can of worms, so just let's stick with lip balm. Take ChapStick, the beloved lip balm that became its own noun. While ChapStick is the queen of lip balm, (rightfully so, they did invent lip balm as we know it) a lot has changed since the 1890s. For one, we're starting to ask questions like, "What is camphor, and should I be putting it on my lips?"
What's In My Store-Bought Lip Balm? 
Let's take a look at some of the ingredients in ChapStick. White Petrolatum, arachidyl propionate, camphor, carnauba wax, cetyl alcohol, fragrance, isopropyl lanolate, isopropyl myristate, lanolin, light mineral oil, octyldodecanol, oleyl alcohol, paraffin, phenyl trimethicone, red 6 lake, titanium dioxide, white wax, yellow 5 lake. Okay, be honest. Out of all of those ingredients, how many can you recognize or pronounce? Unless you're a mad scientist, the number is probably pretty low. 
A quick google search teaches us that...
White Petrolatum has been found to sometimes be contaminated with toxic chemicals such as polycyclic aromatic hydrocarbons (PAHs). Another word we can't pronounce! 
Camphor is a very toxic compound. If ingested by children or infants, even in small doses, it can prove fatal. 
Paraffin is a by-product of the petrochemical industry, so producing it isn't sustainable or environmentally-friendly. It needs to be refined using intense bleach and other harsh chemicals, and can end up contaminated by those chemicals from the refining process.
Red 6 Lake has been shown to contain lead, arsenic, gossypol, mercury, pesticides, and PCBs by the Environmental Working Group.
Yellow 5 Lake has been found to be contaminated with carcinogens, including benzidine.
Quick check in: do you want those ingredients added to your lips every day? Probably not. What if there was a way to keep your lips moisturized and kissable without introducing processed ingredients? Lucky for you, there is. Simply make your own vegan lip balm from home with ingredients you can pronounce! 
Making your own vegan lip balm is the perfect start to a toxin-free DIY skincare routine. You'll get complete control over the ingredients you use, which means no more hidden chemicals, toxins, and carcinogens! It also means less waste—you get to choose the containers you use, and reuse them as you wish. And finally, it's really easy, especially with LĒVO.
DIY Beauty Products with LĒVO
For most of us, the thought of ditching the store-bought products for DIY beauty is a bit daunting. Maybe you're too busy, or the DIY instructions are just too complicated for you to get started. Don't worry—we have a super simple solution. Let LĒVO do it for you.
LĒVO II is an innovative countertop appliance that simplifies the process of herbal infusion from start to finish. It helps you infuse herbs, with all of their medicinal goodness, into oils, waxes, butter, milk, and more. Quite literally, LĒVO can make DIY beauty as easy as pushing a button. 
The idea is simple: pick your base (oil, wax, butter, milk, etc) and pick your herbs (lavender, mint, rose, or even *wink* special flower). LĒVO will seamlessly infuse the ingredients together for easy integration into your life. And it doesn't stop at beauty—you can use LĒVO for any infusion concoction you can think of, from lavender lattes to rosemary olive oil. Watch this video to see LĒVO in action. 
DIY Skincare with LĒVO:
Ready to make some vegan lip balm? Our recipe is adaptable based on your flavor preferences. Choose between mint, lavender, rose, vanilla, or whatever your heart desires. Without further ado, we invite you to try out our vegan lip balm recipe below! 
Shop Now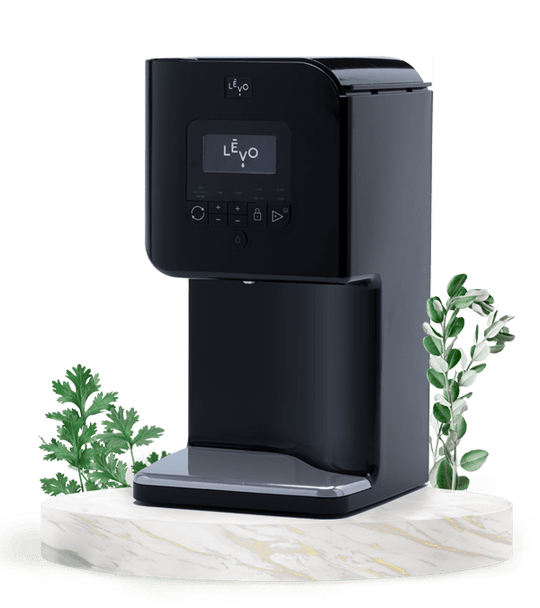 LĒVO II
The worlds first patented oil infuser that lightly dries herbs fresh from your garden, activates their maximum potency, and infuses them into just about anything. Great for daily, small batch, artisanal infusions.
SHOP LĒVO II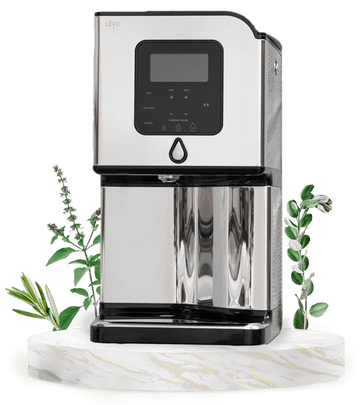 LĒVO LUX
Experience infüsionwith our most elegant, intelligent machine yet: LĒVO LUX. Artfully infuse any herb, spice, fruit, coffee bean, & more into oils, butters, and honeys to create Michelin Star-quality meals.
Shop LĒVO Lux
LĒVO C
LĒVO C is the first large batch infusing solution that is dishwasher safe, has a built-in activation cycle for maximum potency. Perfect for making large 1 liter batches for high frequency users and small businesses.
SHOP LĒVO C
LĒVO oil and butter infusers streamline the oil and butter infusion process, reduce mess, and minimize the smell of decarbing & infusing flower thanks to patented technology. With the ability to decarboxylate + infuse all-in-one machine,LĒVO is the only oil infuser of its kind.
LĒVO oil and butter infusers streamline the oil and butter infusion process, reduce mess, and minimize the smell of decarbing & infusing flower thanks to patented technology. With the ability to decarboxylate + infuse all-in-one machine,LĒVO is the only oil infuser of its kind.