10 Infused Holiday Recipes That Are Festive & Fun
With all of the planning and prepping that needs to be done for the holidays, what's meant to be a time for relaxing can end up being hectic and stressful. 
We at LĒVO hope to take some of the stress off your shoulders. Use this list to help build your menus with holiday recipes. From desserts to side dishes and drinks, there's something for everyone to enjoy. Be sure to check out LĒVO's Christmas Cocktail Guide to help you get into the holiday spirit too!
Make sure you have these tools on hand to make these recipes: 
Here are 10 infused holiday recipes that are festive and fun to make at home. 
The combined smell of four sweet spices–ginger, cinnamon, allspice and cloves–immediately bring those end of year traditions to life. So whether you're baking for your office buds or decorating with the little ones, add some citrus to your favorite gingerbread recipe and call it #LĒVOmade. 
If you're making a traditional holiday dinner, then infused gravy is a must! We also love it for leftovers-as-breakfast the next morning. Made with infused butter, this gravy recipe is nothing short of delicious. Pair it with potatoes, chicken, turkey, and whatever else you love to smother this sauce on. 
While some favor baking for the dessert table, we prefer to switch it up with light bites. Whether it's a brunch gathering or a dinner soiree, mini Christmas quiches are the perfect snack for your holiday sustenance! Check out our recipe for the perfect mini Christmas quiche for your upcoming holiday hoppin'.
Let's face it: Christmas is a holiday that's best paired with one drink, and that drink is hot chocolate. Hot chocolate, of course, is a legendary drink. Mayans drank the rich elixir as earthly as 500 BC, believing it to be a gift from the gods. The drink took a new turn in India when flower was added to it. It then became known as "Bhang" and was drunk to celebrate the Holi festival. Inspired by hot chocolate's rich history, we created a new hot chocolate tradition for you to celebrate: infused chocolate bombs. 
Need an easy infused treat to make over the holidays? We're proud to present a recipe for infused chocolate peppermint bark. This delicious giftable dessert requires only a handful of ingredients and a few moments of your time. The end result? An edible which might be...dare we admit it...too delicious to share.  
Ginger has anti-inflammatory and antioxidant properties, and can help with nausea, osteoarthritis, weight loss, and indigestion. This vegan and gluten free gingerbread recipe contains ginger-infused coconut oil to harness all those extra health benefits. Perfect in the morning or as a midday snack, this Gingerbread Loaf can be enjoyed during the holidays and all year round. 
Love horchata? We suggest using a #LEVOmade infused coconut oil to give your horchata a nutty, earthy flavor, or you can also substitute herb infused milk if that suits you best. Enjoy our infused horchata recipe with cinnamon! 
While a flu remedy doesn't exactly scream holiday fun, flu season is synonymous with the winter time. With back-to-back travel and hectic family gatherings, is it surprising that our immune systems are trying to catch up with us? This time of year we become susceptible to those flu-like symptoms, so whether you're working from home or headed to the office every day, be prepared and stay hydrated with our ginger honey lemon tonic DIY flu remedy. 
With baking, you sometimes need to pay close attention to recipes. Not with this cake! This 10 step flower-infused olive oil cake is as foolproof as it is delicious, and requires only a few basic ingredients that you probably already have at home. Best of all, you can fudge the measurements a little and still wind up with solid results. Try LĒVO infused peppermint olive oil for a restaurant-quality treat. 
Potatoes are delicious whether you roast, fry or bake them, right?! When it comes to latkes, nothing compares to its crispy, savory taste! The most important part of the latke-making process comes down to the fat, a combination of the vegetable oil and schmaltz, rendered chicken fat that you can pick up at a Jewish deli. Once you've got the fat down, the frying part really comes down to rhythm. We infused the vegetable oil to give it that herbaceous taste to complement the necessary applesauce and or sour cream known to add that extra deliciousness to every bite! Pick between sweet or savory and follow LĒVO's infused homemade latke recipe. 
More Holiday Inspo
Shop Now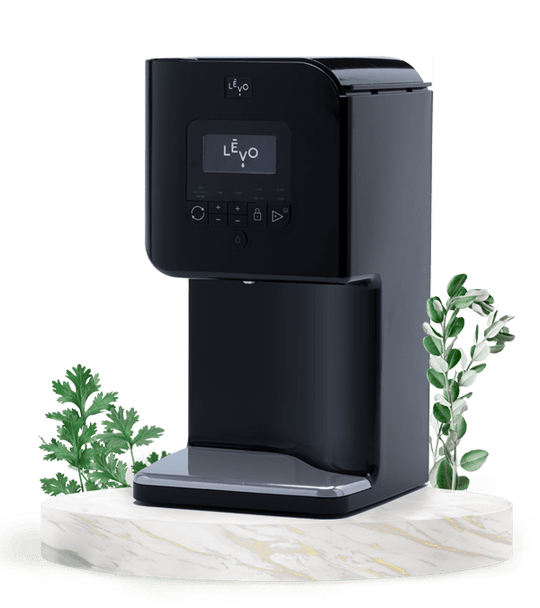 LĒVO II
The worlds first patented oil infuser that lightly dries herbs fresh from your garden, activates their maximum potency, and infuses them into just about anything. Great for daily, small batch, artisanal infusions.
SHOP LĒVO II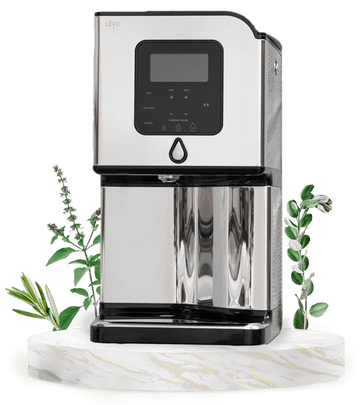 LĒVO LUX
Experience infüsionwith our most elegant, intelligent machine yet: LĒVO LUX. Artfully infuse any herb, spice, fruit, coffee bean, & more into oils, butters, and honeys to create Michelin Star-quality meals.
Shop LĒVO Lux
LĒVO C
LĒVO C is the first large batch infusing solution that is dishwasher safe, has a built-in activation cycle for maximum potency. Perfect for making large 1 liter batches for high frequency users and small businesses.
SHOP LĒVO C
LĒVO oil and butter infusers streamline the oil and butter infusion process, reduce mess, and minimize the smell of decarbing & infusing flower thanks to patented technology. With the ability to decarboxylate + infuse all-in-one machine,LĒVO is the only oil infuser of its kind.
LĒVO oil and butter infusers streamline the oil and butter infusion process, reduce mess, and minimize the smell of decarbing & infusing flower thanks to patented technology. With the ability to decarboxylate + infuse all-in-one machine,LĒVO is the only oil infuser of its kind.