10 Easy Healthy Dinner Recipes Made with LĒVO
Dinner time doesn't have to be a struggle. You can put an elegant and delicious meal on the table that will impress your family and friends in no time. Even better, you can do it for less money than you think. How is this possible? How can you pull together a gourmet meal without spending a small fortune and spending all day in the kitchen? It's easy with the help of the LĒVO family of infusion machines. We've compiled 10 of our favorite easy dinner recipes that we believe your family will love!

The LĒVO C, LĒVO II, and LĒVO Lux machines are all professional-grade infusion machines you can use in your home to craft unique recipes and elevate your cooking. When you infuse at home, you pay a fraction of what you would when purchasing specialty oils and food products. Infusing at home is also a lot less time-consuming and labor-intensive than you think. Your LĒVO does all the work, and clean-up is simple because all components are non-toxic and 100 percent dishwasher safe.
Are you ready to take dinner to the next level with LĒVO? Here are ten easy dinner recipes you can make with your LĒVO infusion machine that will leave your family and friends craving more.
1. Green Spaghetti

Green Spaghetti  sounds unusual, but it is a fresh and flavorful take on pasta. Made with garlic-infused olive oil, fresh spinach, and kale, this pasta has an earthy flavor enhanced by garlic olive oil. Cream cheese and feta add tangy notes to the dish to balance the bitterness of the kale and the sweetness of the spinach.
If you don't care for the intense flavor of garlic, try a basil-infused olive oil instead.
2. Infused Teriyaki Pineapple Chicken Bowl
Sesame oil has a rich nutty flavor. When you infuse it with a botanical, the earthy notes of sesame become more prominent. Infused sesame oil is deeper and richer in flavor, making it the perfect choice for this Teriyaki Pineapple Chicken Bowl. The sweetness of the pineapple juice and brown sugar balances out the earthy, nutty flavor of the infused sesame oil. Minced ginger freshens up the entire dish.
You can easily substitute tofu for the chicken to make this dish vegetarian and still gain the same flavor profile and botanical benefits.
3. Infused Oven Baked Halibut
Halibut is a beautiful, lean white fish. It has a mild flavor and can be somewhat sweet without an overly "fishy" taste. It has a firmer texture than other white fish, like cod, which means it can stand up to baking, grilling, and searing. In this Infused Oven Baked Halibut recipe, botanically infused coconut cream combines sweet notes with the earthy flavor of the flower. Wasabi peas lend a little crunch and punch to the dish. Serve over luxurious coconut basmati rice for a show-stopping meal.
4. The Best Recipe for Chicken Chili
Warm, smoky, and slightly spicy, this is the Best Recipe for Chicken Chili. Jalapeno-infused olive oil adds a bold and spicy flavor to the base of this recipe. Layer that with garlic, smoky paprika, and flavorful chili powder, and you end up with a hearty dish bursting with flavor.
Chicken thighs are a great choice because they stay moist and meaty. However, you can always use chicken breast or leftover rotisserie chicken in your batch. Chili is super easy to make and versatile because you can adjust the spices to your flavor preference. You can also substitute a wide variety of vegetables and beans. If you can't find cannellini beans, try light red kidney beans instead.
5. Garlic Noodles with Crab Meat
Is anything more luxurious than shellfish like crab and lobster? Garlic Noodles with Crab Meat is a dish that is easy to put together but makes a stunning impression. Garlic and peppercorn-infused butter lend a richness to this dish that you can't get from regular butter alone. Pair that with crab meat and the rich umami of oyster and fish sauce and you have a delicious meal your guests will remember.
6. Infused Buffalo Chickpea Tacos
Vegetarian food sometimes gets a bad reputation for being uninspired and flavorless. That's not the case with these Infused Chickpea Tacos. Flower-infused olive oil adds earthy goodness to this easy-to-make dish. Spice up chickpeas with buffalo sauce and infused olive oil, then top with bell pepper, cilantro, and purple cabbage. Add vegan ranch for extra tang. Not a fan of cilantro? Try parsley or green onions on top instead.
7. Infused Butter Garlic Langoustine Scampi
Traditional scampi is rich and velvety. With the addition of lobster and infused butter, Infused Butter Garlic Langoustine Scampi goes from traditional to out-of-this-world. The infused butter plays well with the earthy, herbaceous notes of the thyme, rosemary, oregano, and basil. The acidity of the white wine brightens the dish and prevents it from feeling too heavy and overwhelming on the palate. For a side, try adding crusty bread made with infused garlic olive oil or infused butter.
8. New England Clam Chowder
Nothing warms your heart and lifts your spirits like a bowl of New England Clam Chowder. The flavor of briny clams and salty bacon is hard to beat. Step it up by adding garlic and thyme-infused butter which beautifully balances the richness. Regular butter adds fat and creaminess, but garlic thyme-infused butter adds more flavor and dimension to the soup. Serve in a bread bowl or with a side of oyster crackers. Want even more flavor? Toss oyster crackers in extra garlic thyme butter and bake until golden.
9. Infused Shrimp Tikka Masala
Tikka Masala is considered a traditional Indian dish but its roots lie in Scotland, where a Bengali chef needed to improvise at the last minute and made this food as a result. Regardless of how it started, Tikka Masala is a delicious dish filled with intense flavors and rich spices. Infused Shrimp Tikka Masala combines the acidity of tomato sauce with the creamy richness of yogurt and botanically infused heavy cream. Garam masala, turmeric, paprika, ginger, and cayenne give this dish an intense color and flavor profile. Serve over jasmine rice with a side of paratha bread to soak up all the saucy goodness.
10. Infused Buffalo Chicken Salad
Punch up a boring chicken salad by making Infused Buffalo Chicken Salad. This recipe is great for using leftover chicken and is quick and easy to assemble. Adding infused ghee or butter helps to intensify the flavor of the buffalo sauce and gives the sauce a creamier texture. Top with blue cheese dressing and crumbles, and you have a satisfying lunch or dinner made in minutes.
With a LĒVO infusion machine, dinner will never be boring again and you'll be a culinary hero. Find the LĒVO machine that aligns with your home infusion needs!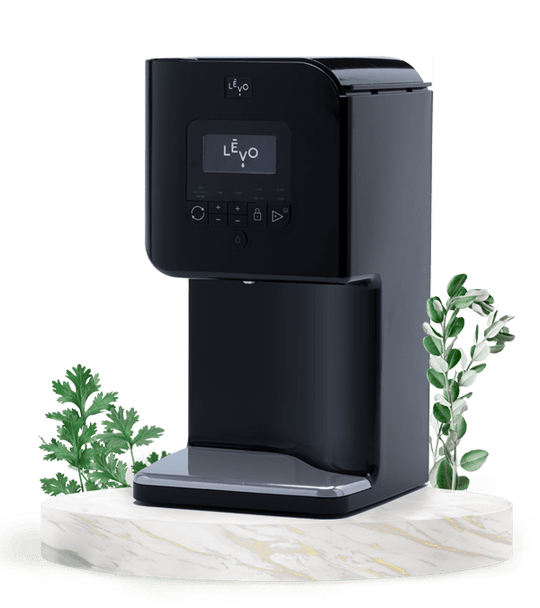 LĒVO II
The worlds first patented oil infuser that lightly dries herbs fresh from your garden, activates their maximum potency, and infuses them into just about anything. Great for daily, small batch, artisanal infusions.
SHOP LĒVO II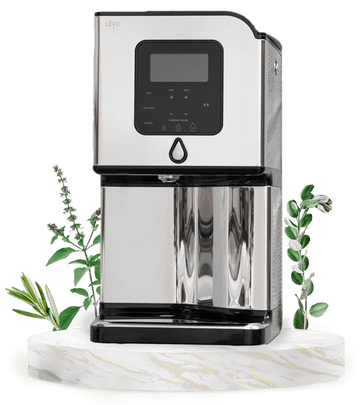 LĒVO LUX
Experience infüsionwith our most elegant, intelligent machine yet: LĒVO LUX. Artfully infuse any herb, spice, fruit, coffee bean, & more into oils, butters, and honeys to create Michelin Star-quality meals.
Shop LĒVO Lux
LĒVO C
LĒVO C is the first large batch infusing solution that is dishwasher safe, has a built-in activation cycle for maximum potency. Perfect for making large 1 liter batches for high frequency users and small businesses.
SHOP LĒVO C
LĒVO oil and butter infusers streamline the oil and butter infusion process, reduce mess, and minimize the smell of decarbing & infusing flower thanks to patented technology. With the ability to decarboxylate + infuse all-in-one machine,LĒVO is the only oil infuser of its kind.
LĒVO oil and butter infusers streamline the oil and butter infusion process, reduce mess, and minimize the smell of decarbing & infusing flower thanks to patented technology. With the ability to decarboxylate + infuse all-in-one machine,LĒVO is the only oil infuser of its kind.