10 Perfect Valentine's Day Gift Ideas
With Valentine's Day just around the corner, the hunt is on for the perfect gift to give to your loved one(s). With so many products out there on the market, how can you possibly pick one that's just right for the one you love? LĒVO's got you covered with this list of 10 perfect Valentine's Day gift ideas. Try your hand at creating your own personalized Valentine's Day gift, or gift them something they would never think to buy for themselves! Show your partner just how much they mean to you this year with a gift, infused with extra love, from our list below!

1. Champagne Infused Flower Gummies

LĒVO's Champagne-Infused Flower Gummies are easy to make and undeniably delectable! The perfect celebration worthy edible, these edibles combine two delicious ingredients into one treat: champagne and flower-infused MCT oil. We love the idea of filling a tall champagne flute with these gummies and wrapping it up with a bow. A sweet toast to the love you share on Valentine's Day!
2. Infused Hot Chocolate Bombs 

Colder months call for warm mugs of hot chocolate, don't you agree? These Infused Hot Chocolate Bombs are a blast to create and make for a fun, heartfelt Valentine's Day gift. Add to a mug and wrap up in a bow for a ready-to-go self care night for your partner, gal, pal, or whoever your Valentine may be! Let them know that they've warmed your heart and this is sure to warm theirs!

Creating these Infused Hot Chocolate Bombs is easy to do when you have the right tools on hand. As the world's first patented oil infuser, LĒVO can get the job done. Drop this mini masterpiece into a glass of warm milk and enjoy the soothing  effects of this delicious hot chocolate treat!
3. LĒVO's Complete Gummy Edibles Making Kit 
If you're looking for a gift for your boyfriend, partner or spouse, look no further than the LĒVO Gummy Edibles Making Kit. Complete with everything you need to get started making perfect homemade gummies, LĒVO streamlines the process that would otherwise require stirring your mix over the stove. 
This kit comes with gummy mixes from our selection of seven delicious flavors, including Cherry, Raspberry, Peach, Strawberry Lemonade, Grape Soda, Frosted Marshmallow, and Orange Creamsicle. Our mixer is easy to clean and creates perfect gummies every time. With plenty of creative gummy recipes on our website, experimenting in the gummy game is fun and flawless when you have this gummy mixer as your kitchen sidekick.
4. Moisturizing Beard Oil 

If you're looking for the perfect DIY gift for your bearded Valentine, this Moisturizing Beard Oil recipe is a promising one! Moisturizing is an important step in any healthy hair care routine, which is why we feel this DIY gift is something that will be loved and well used by anyone with a beard! With a unique oil base combination, our beard oil is capable of taming unruly hair, while a mix of lemongrass and sandalwood will leave facial hair smelling clean and crisp. 
5. Lavender Shower Steamers 

For the special person in your life who loves to take long showers, our Lavender Shower Steamers are the best gift. Shower steamers offer a relaxing addition to any steamy shower, transforming a bathroom into an aromatic space ideal for restoration. Wrap up with a sweet note and you have a thoughtful homemade gift that your Valentine is bound to appreciate and enjoy!
6. DIY Coffee Body Scrub 

While most pre-made body scrubs are full of harmful preservatives and chemicals, our homemade recipe is free from all of the yucky ingredients you'd normally find on store shelves. What better gift to give your loved one than a homemade gift made with clean, healthy ingredients?! 
This DIY Coffee Body Scrub recipe helps to provide the skin with antioxidant effects while exfoliating and offering hydration through silky cocoa butter. You'll also love the other benefits it can provide, which can help to reduce the appearance of cellulite, increase blood flow, and even out skin tone. Thrift a unique jar for a lovely DIY Valentine's Day gift anyone is sure to enjoy!
7. Homemade Moisturizer 
Everyone can appreciate a good moisturizer, which is why we believe this Homemade Moisturizer Recipe is a sure hit for any partner, pal, or galentine you may be looking to shower with love this February. We love this DIY recipe because it is easy to make and takes only 30 minutes to put together. It can also be customized to individual preferences.
8. Chocolate Covered Almonds 

Though you might think homemade chocolate is tricky to make, we've perfected the art of making infused chocolate at home. There is so much you can do with it, including an array of quality homemade gifts for your loved ones. Our vegan and dairy-free recipe for Chocolate Covered Almonds is a thoughtful snack for any chocolate lover in your life and ultimately makes for a great DIY Valentine's Day gift idea.
9. Homemade Infused Hot Sauce 
Why not spice up your Valentine's Day with our Home-Infused Hot Sauce? It's perfect for just about anything! Whether you want to use it for your eggs, fries, or burger, this sauce is sure to elevate your meal in more ways than one! Print out your own cute labels and voilà, a homemade Valentine's Day gift that is sure to impress your special someone! 
10. Essential Oil Rollerballs 
If you're unsure what to get your special Valentine this year, you really can not go wrong with our Essential Oil Rollerballs. These babies are a great tool for self-care, stress relief or perfume for on-the-go! Made with your love and can be customized to your partner's preferred scent, this homemade Valentine's gift is sure to deliver a calming effect once rolled onto wrists or temples. 
Gifting for Valentine's Day
When you're out of ideas or in need of inspiration, LĒVO makes it easy to create homemade and heartfelt Valentine's Day gifts. Be sure to visit our website today and find out how our LĒVO II, LĒVO C, and LĒVO Lux machines can help you elevate your gift-giving game today. For some more Valentine's Day inspiration, check out these 14 Valentine's Day treat recipes!
Shop Now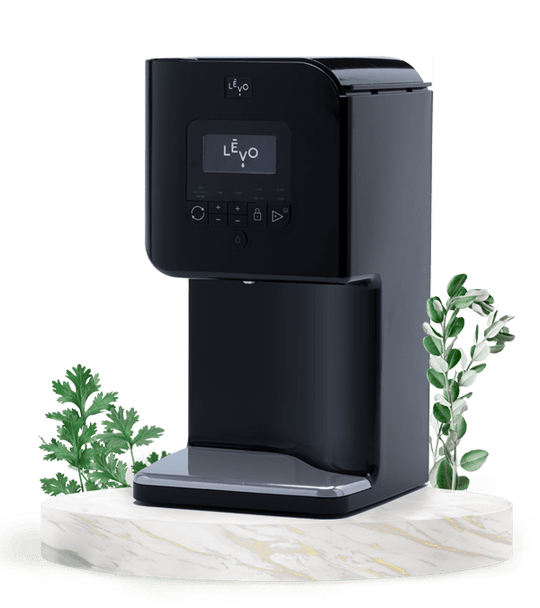 LĒVO II
The worlds first patented oil infuser that lightly dries herbs fresh from your garden, activates their maximum potency, and infuses them into just about anything. Great for daily, small batch, artisanal infusions.
SHOP LĒVO II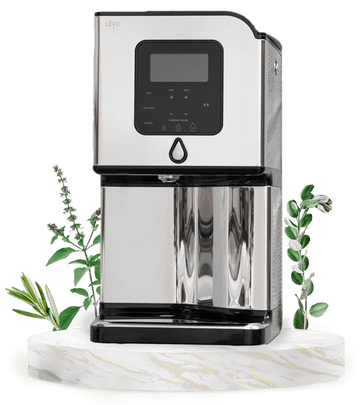 LĒVO LUX
Experience infüsionwith our most elegant, intelligent machine yet: LĒVO LUX. Artfully infuse any herb, spice, fruit, coffee bean, & more into oils, butters, and honeys to create Michelin Star-quality meals.
Shop LĒVO Lux
LĒVO C
LĒVO C is the first large batch infusing solution that is dishwasher safe, has a built-in activation cycle for maximum potency. Perfect for making large 1 liter batches for high frequency users and small businesses.
SHOP LĒVO C
LĒVO oil and butter infusers streamline the oil and butter infusion process, reduce mess, and minimize the smell of decarbing & infusing flower thanks to patented technology. With the ability to decarboxylate + infuse all-in-one machine,LĒVO is the only oil infuser of its kind.
LĒVO oil and butter infusers streamline the oil and butter infusion process, reduce mess, and minimize the smell of decarbing & infusing flower thanks to patented technology. With the ability to decarboxylate + infuse all-in-one machine,LĒVO is the only oil infuser of its kind.