How to Make Homemade Infused Simple Syrup
Simple syrup is a product that can be used for numerous purposes, including microdosing and making delectable, infused drink creations. The name sounds deceptively easy. Unfortunately, crafting homemade simple syrup can be trickier than the name suggests. You can spend your valuable time hunched over a hot stove meticulously monitoring your concoction, or you can use the LĒVO family of infusion machines to craft the perfect infused syrup without the hassle. 
How do you make your own infused simple syrup, and what can you use it for? A world of possibilities awaits you!  
What is Microdosing?
There is no specific definition for microdosing. Microdosing refers to using a dose of a substance in quantities less than what is considered a therapeutic dose. Some publications call a microdose anything between 1/5 to 1/20 of a traditional dose, while others call it roughly 10% of a generally accepted therapeutic dose. Microdosing is not an exact science.
The goal of ingesting a microdose of a substance is to obtain the positive benefits of the compound without feeling the negative side effects. Advocates of microdosing say that it can help boost performance and improve the symptoms of depression, anxiety, and other medical disorders. Small studies indicate there may be real benefits to microdosing. However, there has not been enough large-scale scientific research on microdosing to determine the exact benefits and potential drawbacks.
Infused Simple Syrup and Microdosing 
One way to try microdosing is by using an infused simple syrup. Simple syrup is commonly recognized as a cocktail-hour staple. Traditional simple syrup is made with equal parts water and sugar, which are added to a saucepan and brought to a gentle boil. The heat is rapidly reduced to a simmer until the sugar dissolves. Once the mixture is cooled, you have sweet syrup. Simple syrup is perfect for use in cocktails and coffee drinks. It is also used in other culinary applications, typically for confections. Water and sugar create a basic simple syrup. However, the syrup can be infused with herbs, spices, and flowers to give it different flavor profiles.
Infused simple syrup in the context of microdosing is a little different. The active compounds for microdosing are not water soluble, so infusing the flower with water and sugar will have little to no effect. A simple syrup infusion for microdosing needs the addition of fat because fat helps bind the compounds of the flower in the concoction. In the context of creating a flower-infused simple syrup, vegetable glycerin plus lecithin or MCT oil are the most viable fat-soluble mediums. These substances are generally odorless and flavorless and will not impact the flavor of your final product.
How to Make Homemade Infused Simple Syrup
Making a flower infusing simple syrup can be time-consuming and complicated, but not with a LĒVO infusion machine in your home. The LĒVO family of infusion machines makes crafting homemade infused simple syrup safe and easy, and you always get consistent and high-quality results. 
If you are interested in making large batches of infused simple syrup for home use or commercial applications, consider the LĒVO C. The LĒVO C includes a 1L glass basin and a jumbo pod that can hold up to 1 ounce of dried flower or herb. It also comes in a range of beautiful colors.
The LĒVO II's ceramic-coated reservoir holds up to 16 ounces of material, and its accompanying power pod holds 8 grams of herb or flower. Want a more potent infusion? The LĒVO II lets you double up. Add an additional power pod to increase the potency of your creation, which is highly recommended when crafting homemade simple syrups for microdosing since such a small amount is typically used. The LĒVO II also includes special dry and activate modes that help prepare your flower and extend your final product's shelf life. 
For the ultimate infusion experience, the LĒVO Lux is for you. The LĒVO Lux has a sleek touchscreen interface and a luxurious metal mirror finish. The patented dry and activate technology used in the LĒVO II is improved in the LĒVO Lux. The Lux efficiently and optimally removes moisture from your flower during the DRY + cycle, extending the shelf life of your infusion. Try making Lavender Simple Syrup with the advantage of the DRY+ cycle! The activate mode awakens the potent properties. Precise time and temperature controls mean you can tailor your infusion to your flavor preference. The LĒVO Lux can also accommodate two power pods for increased infusion potency. 
All LĒVO infusion machines feature non-toxic and dishwasher-safe components and will save you time and money when you create homemade infusion masterpieces. Forget trying to infuse simple syrup the old-fashioned way. Try making this homemade infused simple syrup with your LĒVO infusion machine. 
Related Posts

Shop Now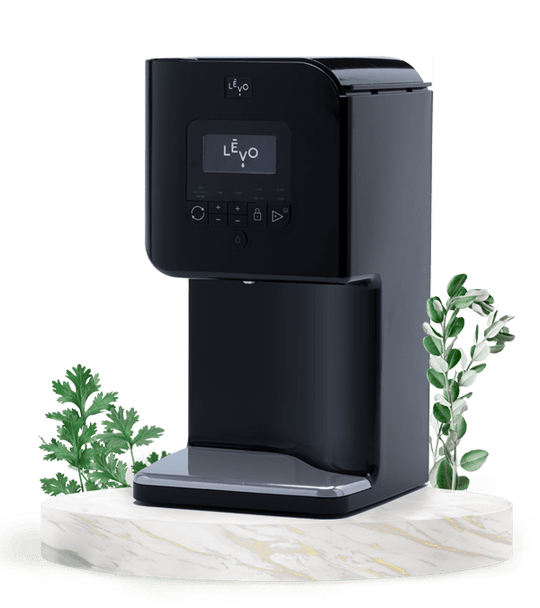 LĒVO II
The worlds first patented oil infuser that lightly dries herbs fresh from your garden, activates their maximum potency, and infuses them into just about anything. Great for daily, small batch, artisanal infusions.
SHOP LĒVO II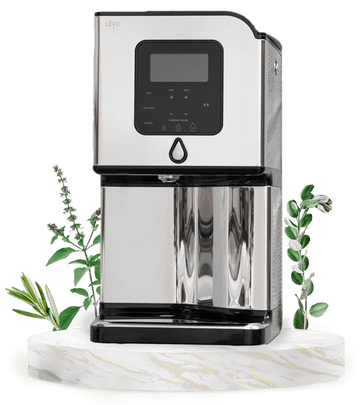 LĒVO LUX
Experience infüsionwith our most elegant, intelligent machine yet: LĒVO LUX. Artfully infuse any herb, spice, fruit, coffee bean, & more into oils, butters, and honeys to create Michelin Star-quality meals.
Shop LĒVO Lux
LĒVO C
LĒVO C is the first large batch infusing solution that is dishwasher safe, has a built-in activation cycle for maximum potency. Perfect for making large 1 liter batches for high frequency users and small businesses.
SHOP LĒVO C
LĒVO oil and butter infusers streamline the oil and butter infusion process, reduce mess, and minimize the smell of decarbing & infusing flower thanks to patented technology. With the ability to decarboxylate + infuse all-in-one machine,LĒVO is the only oil infuser of its kind.
LĒVO oil and butter infusers streamline the oil and butter infusion process, reduce mess, and minimize the smell of decarbing & infusing flower thanks to patented technology. With the ability to decarboxylate + infuse all-in-one machine,LĒVO is the only oil infuser of its kind.