How to Make Lavender Syrup
Lavender is a small, fragrant purple flower that belongs to the mint family. A resilient herb, lavender can be grown almost anywhere if it gets full sun. Its sweet and floral fragrance makes it a delight for inclusion in perfumes, essential oils and a realm of homemade remedies and recipes including one of our favorites, lavender infused syrup! It is a versatile and flavorful plant that boasts several potential health benefits. How can you incorporate lavender into your daily routine? The LĒVO family of infusion machines makes it easy!
The Benefits of Lavender
Lavender is often considered a one-note plant. It smells gorgeous and is great for use in bath and body products. In addition to its intense floral aroma, lavender is quite flavorful. It imparts sweet, floral notes while tasting mildly minty with hints of rosemary. 
Used in antiquity as fragrance, it is also a popular medicinal herb. Today, lavender is associated with relaxation and stress reduction and may help ease symptoms of insomnia. Lavender is also praised for its antibacterial and antiviral properties. Many people associate lavender with essential oils and holistic healing. However, scientific studies indicate lavender can provide physical and psychological benefits to those suffering certain medical conditions.  
Lavender may help individuals with: 
Insomnia 

Alopecia or hair loss

Eczema

Acne

Fungal infections 

Menopausal hot flashes

Asthma symptoms 

Pain and inflammation 

Anxiety 
How do you incorporate lavender into your life and diet? Lavender simple syrup is a quick and easy way to enjoy the flavor, fragrance, and health benefits of this unique plant. Unfortunately, finding lavender syrup in a store near you can be challenging. It can also be expensive. Save time and money by making this aromatic concoction at home with a LĒVO infusion machine.
Using the LĒVO for Infusing Lavender
Crafting lavender simple syrup is, well, simple. All you need is the help of a LĒVO infusion machine. To get started, choose the LĒVO machine that meets your needs. 
The LĒVO C is the perfect option for individuals interested in making large batch infusions at home or for a small business. A LĒVO C jumbo pod can hold up to one ounce of dry herbs. Precise time and temperature controls on the machine mean you get consistent results every time. 
The LĒVO II is compact and versatile, which makes it a popular choice for people just getting started with infusions and those with culinary experience. This machine has three distinct features: dry, activate and infuse cycles. The dry cycle pulls moisture from your flowers and herbs, helping to extend the shelf life of your infusion. The activate cycle prepares your herbs and flowers for infusion, increasing potency.  
Finally, the LĒVO Lux is for anyone interested in adding a touch of elegance to their kitchen countertop. The LĒVO Lux lives up to its name, featuring several high-shine metallic finishes. It also includes an enhanced Dry+ cycle to help extend shelf life and promote potency. You don't have to sacrifice style to get an easy-to-use, easy-to-clean machine. All the LĒVO Lux components are non-toxic and 100 percent dishwasher safe.  
Before you fill the power pod with lavender, make sure you choose culinary lavender. There are several species of lavender, and you will want to make your infusion with a culinary-grade flower. 
Next, separate the flowers from their stems and fill your power pod. If you are interested in boosting the potency of your lavender syrup, consider using two power pods instead of one. Both the LĒVO Lux and the LĒVO II can accommodate up to two power pods. 
Finally, set your machine to the appropriate time and temperature settings. The LĒVO Infusion Calculator can help you craft the perfect infusion every time. Then, you are ready to infuse! 
How to Use Your Homemade Lavender Simple Syrup
Once you have a batch of lavender simple syrup on hand, what can you do with it? The sweet and floral notes of lavender pair well with dark and complex flavors in espresso. Try using lavender simple syrup in a Lavender Latte. If coffee isn't for you, try to jump-start your daily routine with a Blueberry Lavender Matcha. You can also enjoy a spoonful of lavender syrup in hot tea. If you want something with a little more kick, add it to a margarita or gin fizz. Lavender simple syrup can also be used in baked goods and confections. 
If you prefer to ingest lavender topically via skin care products, consider making lavender shower steamers, bath scrubs, or a stress-less scented rollerball. These recipes and more are included in our Five Best Lavender Infusions for Self-Care. No matter what you use lavender for, your LĒVO infusion machine will have you marvel at the versatility of this little purple flower.  
Shop Now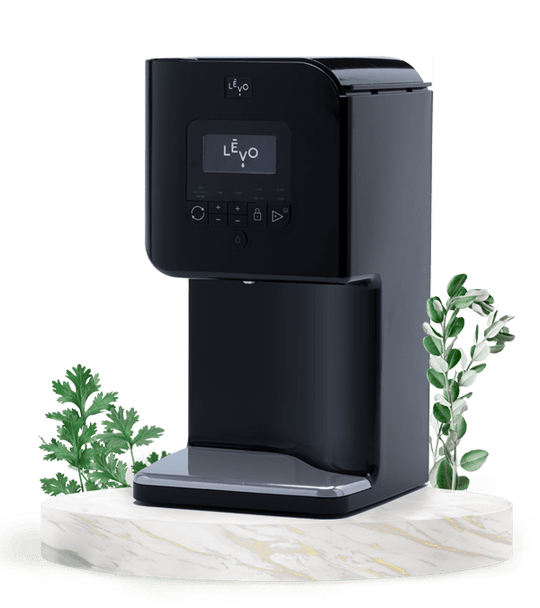 LĒVO II
The worlds first patented oil infuser that lightly dries herbs fresh from your garden, activates their maximum potency, and infuses them into just about anything. Great for daily, small batch, artisanal infusions.
SHOP LĒVO II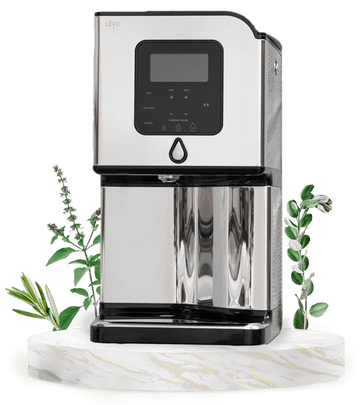 LĒVO LUX
Experience infüsionwith our most elegant, intelligent machine yet: LĒVO LUX. Artfully infuse any herb, spice, fruit, coffee bean, & more into oils, butters, and honeys to create Michelin Star-quality meals.
Shop LĒVO Lux
LĒVO C
LĒVO C is the first large batch infusing solution that is dishwasher safe, has a built-in activation cycle for maximum potency. Perfect for making large 1 liter batches for high frequency users and small businesses.
SHOP LĒVO C
LĒVO oil and butter infusers streamline the oil and butter infusion process, reduce mess, and minimize the smell of decarbing & infusing flower thanks to patented technology. With the ability to decarboxylate + infuse all-in-one machine,LĒVO is the only oil infuser of its kind.
LĒVO oil and butter infusers streamline the oil and butter infusion process, reduce mess, and minimize the smell of decarbing & infusing flower thanks to patented technology. With the ability to decarboxylate + infuse all-in-one machine,LĒVO is the only oil infuser of its kind.