Infusiast Spotlight: Fruit + Flower Co.
Meet Christina, the botanical genius behind Fruit + Flower Co. With a passion for blending the natural wonders of fruits and flowers into delightful infusions, Christina has carved a niche for herself in the world of culinary infusions and artistry.   
Christina will share the secrets behind her signature Pumpkin Seed Brittle, along with helpful tips for personalized dosage when infusing with flower!
How has your relationship with LĒVO evolved since your last spotlight?
Thanks to my LĒVO home infusion machine and the customization options, I'm much more confident with experimenting with infusion temperatures and times and experimenting with different infusion bases and activation temperatures. Having this ability at the push of a button is so helpful when I'm experimenting. 
As an experienced user, can you share some advanced infusion techniques or hacks you've discovered with LĒVO?
You don't need to infuse for 3-4 hours. Most of the herbal benefits that will be infused into the oil or fat will happen between 90 minutes to 2 hours. According to lab-tested results, longer infusion time may increase potency and efficiency but it's it's diminishing returns on potency vs. time. That realization saved me hours of time!
How do you strike a balance between the flavors of different herbs and the dishes you create?
When I'm infusing with flower, I make my infusions low dose so there isn't a strong grassy flavor that overpowers the flavors in my food. I also choose strains and terpene profiles that match with what I'm cooking/baking so that the aromas complement each other. Cooking with flower is just like any other seasoning or spice, it takes the right intuition and taste to balance flavors. 
If I'm making a high-dose recipe where I know the plant flavor will overpower the food, I'll opt for infusing with concentrates, rather than flower, and use the natural terpy flavors as part of the dish.  
What drove you to create a platform that joins the culinary world with the world of herbs?
I spent over 15 years working in the culinary world with chefs. Food and cooking is my passion. When I started working in the industry, I realized that there was a missed opportunity to teach people how to appreciate flower in the same way they care about their food. The flower-infused recipes I saw were non-specific with dosing instructions, omitted altogether, or provided wildly inaccurate information that would send an average person with a low tolerance to the moon. I heard over and over again, that someone had a bad magical brownie experience and they were afraid to try edibles again. So I want to empower people to learn how to confidently make edibles, and save money doing it at home for a fraction of the price compared to buying edibles at a dispensary. So I created Fruit + Flower, a place where culinary meets flower in unexpected ways.  
How has LĒVO influenced the recipes and content you create for Fruit + Flower Co.?
LĒVO helped me feel more confident about cooking and baking with flower so that I could focus on the creativity of making beautiful desserts. The customization options make it easy to experiment and try new techniques.  
With your extensive experience, how do you ensure the safety and efficacy of the infusions you consume?
I do the math and calculate exactly how much flower to use in my infusions for my desired potency per serving. I only infuse what I need for the the recipe, rather than making an extra potent batch and portioning it out. I find that when I make strong batches I forget the potency and that's when mistakes happen with unmarked, forgotten jars in the back of the fridge. 
With free online calculators it's easy to calculate exactly how much flower you need for desired potency per serving. 
What would you like to share with the LĒVO community, especially those who are new to the world of infusions?
The oil/butter doesn't have to be dark green to be effective! Whether you're a low dose or high dose consumer accurately dosing your edibles and knowing exactly how much you're taking is an important part of using flower.
Don't be intimidated by the math to calculate potency. It may feel confusing at first, but once you understand the variables and try a few batches, you'll feel more confident. Even though there are variables and it's not exact, taking a moment to calculate the math will give you a ballpark number to understand the potency of what you're making.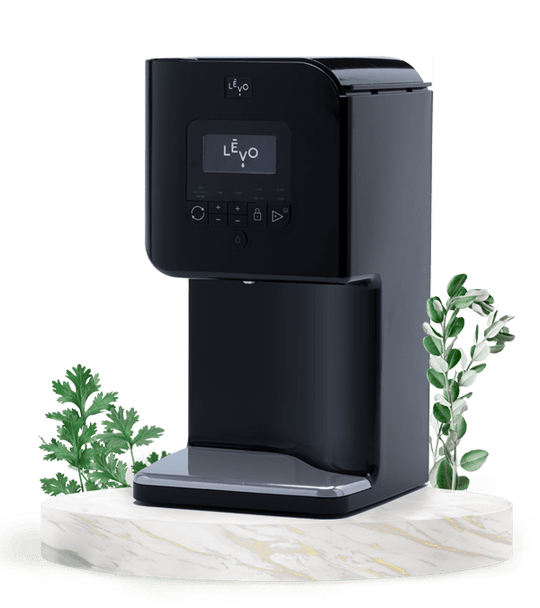 LĒVO II
The worlds first patented oil infuser that lightly dries herbs fresh from your garden, activates their maximum potency, and infuses them into just about anything. Great for daily, small batch, artisanal infusions.
SHOP LĒVO II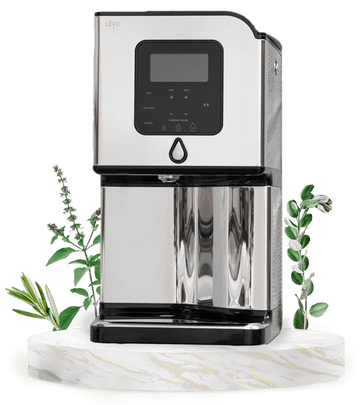 LĒVO LUX
Experience infüsionwith our most elegant, intelligent machine yet: LĒVO LUX. Artfully infuse any herb, spice, fruit, coffee bean, & more into oils, butters, and honeys to create Michelin Star-quality meals.
Shop LĒVO Lux
LĒVO C
LĒVO C is the first large batch infusing solution that is dishwasher safe, has a built-in activation cycle for maximum potency. Perfect for making large 1 liter batches for high frequency users and small businesses.
SHOP LĒVO C
LĒVO oil and butter infusers streamline the oil and butter infusion process, reduce mess, and minimize the smell of decarbing & infusing flower thanks to patented technology. With the ability to decarboxylate + infuse all-in-one machine,LĒVO is the only oil infuser of its kind.
LĒVO oil and butter infusers streamline the oil and butter infusion process, reduce mess, and minimize the smell of decarbing & infusing flower thanks to patented technology. With the ability to decarboxylate + infuse all-in-one machine,LĒVO is the only oil infuser of its kind.