How to Use LĒVO's Gummy Mixer
One popular way to utilize flavorful herb and flower infusion blends from your LĒVO II or LĒVO LUX is by making gummies. You can eat gummies anywhere, anytime, and when you make them yourself, you can control the ingredients and flavor profile.
Making your own gummies at home doesn't have to be complicated. LĒVO makes creating unique gummies simple with a family of products that takes the guesswork out of candy making and makes the process foolproof! Forget buying expensive candy-making tools you only use once, burning yourself with hot liquids, or standing over a hot stove watching your mixture continuously so it won't burn. No more!

Get ready for a crash course in candy making that will have you creating delicious gummy treats in no time.
The Perfect Gummy Mix 
Making gummies starts with gummy mix. LĒVO has created an all-in-one Gummy Mix with almost everything you need to create these squishy, tasty treats. The only thing missing is water and the unique infused oil of your choice. 
LĒVO gummy mixes come in flavors like tart cherry, tropical peach, raspberry sherbet, and strawberry lemonade. 
The Gummy Candy Mixer – Where the Magic Happens 
After you have chosen your favorite gummy flavor, use the LĒVO Gummy Candy Mixer to create soft, delectable gummies. The Gummy Candy Mixer uses precise temperature and time settings, taking the guesswork out of candy making. 
First, start by adding your preferred gummy mix and water to the LĒVO Gummy Candy Mixer machine and press the start button.
The candy mixer will begin its first heat and whisk cycle and do all the work for you. When you hear the machine beep, it signals the first cycle is complete. You can now add your favorite oil infusion into the machine. Put the lid back on and hold the power button for three seconds. The power button will now be blue, signaling the start of the second stirring cycle. You may need to repeat this step a few more times to make sure your oil infusion is completely incorporated into your gummy mix. 
Finally, transfer your candy mixture into gummy molds. You can place your gummies in the fridge or freezer to help them set more quickly. If your mixture begins to set prior to adding it to the molds, run it through another heat and whisk cycle to soften the candy. LĒVO Gummy Candy Molds are made of food-safe silicone and include droppers and snap-on lids, making it easy to transfer and store your gummy mixture. 
Need more help perfecting your candy-making technique? Our LĒVO Gummy Mix instructions will walk you through the gummy-making process and provide you with tips and tricks. 
Interested in learning more information about our Gummy Candy Mixer? Check out our user manual and troubleshooting guide. All your questions should be answered there or you can email us at support@levooil.com
Get Creative with Your Gummy Flavors 
The LĒVO Gummy Candy Mixer also lets you flex your creative candy-making muscles. There are tons of recipes to help you create unique flavor combinations. A favorite is the Golden Pineapple Mango Gummies. 
If you want an extra burst of flavor, try combining different gummy flavors into one mold, like the LĒVO Gummy Worm Mold. Each food-safe silicone mold makes 24 worm-shaped gummies. The mold also comes with a silicone divider. We recommend adding one flavor to the mold, letting it set, then adding a new flavor to the other half of the worm. You now have two-toned gummy worms! Sweet pineapple and tart cherry pair well, as do tropical peach and strawberry lemonade. Experiment with flavor combinations for a distinctly unique treat that is all your own. 
You can also give yourself a little extra "punch in the mouth" with our Sour Gummy Sugar Trio. These dusting sugars can help prevent gummies from sticking together and provide real pucker power. The trio includes an unflavored sour powder, watermelon, and blue raspberry. 
While you're making goodies with your LĒVO device, don't neglect our favorite edible mixes. When you discover all the good things to choose from, you'll wonder why you went without these tasty treats for so long.
You Eat with Your Eyes First 
Have you ever heard the saying, "you eat with your eyes first?" Sometimes, it's not enough to have a blissfully flavorful treat. You need a showstopping presentation too. The LĒVO Gummy Glitter + Infusion Shimmer Kit can help. The decorative kit includes one jar of edible gummy glitter to coat your gummies in shimming, colorful perfection. The kit also includes one infusion shimmer powder for a "lit from within" glow. 
The kit is easy to use and adds elegance and a whimsical flair to gummies, cakes, candies, chocolates, and beverages. Elevate your gifted holiday creations or use them in the celebration of special occasions. 
Finally, what's the point of being able to make flavor-packed gummies if you can't share them with family and friends? The LĒVO Sharing is Caring Kit lets the people closest to you know you care. The kit comes with an airtight sealer and beautiful small and large wraps. Place your tasty creation in the appropriately sized wrapper and use the heat sealer to make an airtight package suitable for gift-giving and storing. The sealer is rechargeable so you can continue supplying your loved ones with edibles all year round. 
Making candy doesn't mean you have to be chained to the kitchen for hours at a time. Skip the hot stove, endless whisking, and sink full of dirty pots and pans. With the LĒVO line of gummy products, candy-making has never been easier or more fun. All you need to get started is your favorite mix, infused oil, and the LĒVO Gummy Candy Mixer. From there, the possibilities are endless. 
Related Posts:
Shop Now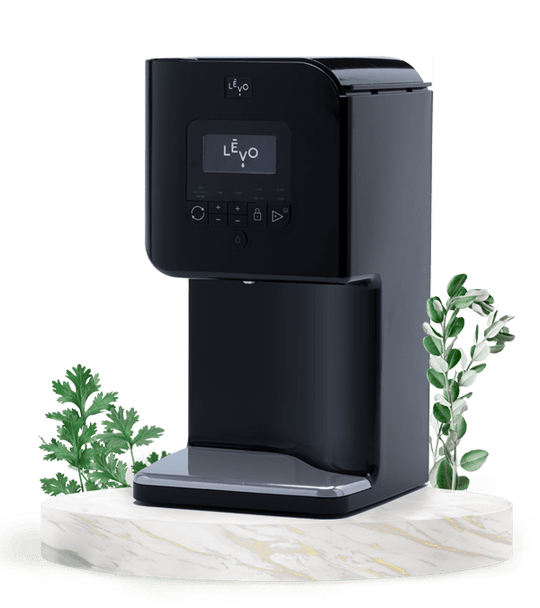 LĒVO II
The worlds first patented oil infuser that lightly dries herbs fresh from your garden, activates their maximum potency, and infuses them into just about anything. Great for daily, small batch, artisanal infusions.
SHOP LĒVO II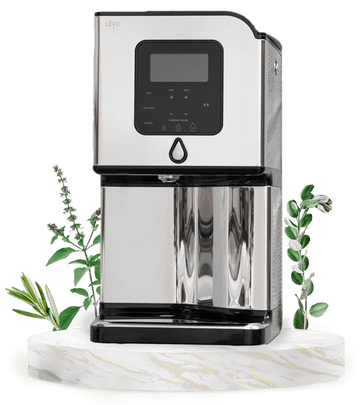 LĒVO LUX
Experience infüsionwith our most elegant, intelligent machine yet: LĒVO LUX. Artfully infuse any herb, spice, fruit, coffee bean, & more into oils, butters, and honeys to create Michelin Star-quality meals.
Shop LĒVO Lux
LĒVO C
LĒVO C is the first large batch infusing solution that is dishwasher safe, has a built-in activation cycle for maximum potency. Perfect for making large 1 liter batches for high frequency users and small businesses.
SHOP LĒVO C
LĒVO oil and butter infusers streamline the oil and butter infusion process, reduce mess, and minimize the smell of decarbing & infusing flower thanks to patented technology. With the ability to decarboxylate + infuse all-in-one machine,LĒVO is the only oil infuser of its kind.
LĒVO oil and butter infusers streamline the oil and butter infusion process, reduce mess, and minimize the smell of decarbing & infusing flower thanks to patented technology. With the ability to decarboxylate + infuse all-in-one machine,LĒVO is the only oil infuser of its kind.