How to Make 100 Gummies in an Hour
If you're a small business owner who makes and sells edible gummies, you probably know that the process of activating and infusing hemp flower manually can be incredibly tedious, not to mention messy. As a business owner, you know that time is money and spending copious amounts of time and labor creating your own infusions and edible products takes away from time you could be focused on running your business. As a hemp vendor, you likely want to make a dependable product that keeps customers returning for more. 
No business owner should have to create infusions by hand while simultaneously juggling other aspects of their business and life. Manually creating hemp infusions can also yield inconsistent results. An unreliable product could drive customers away from your business and lead to wasted financial resources. 
Fortunately, the LĒVO C is here to help. The LĒVO C is one of three LĒVO oil infusion devices in our product line and it was specifically designed with small business owners in mind. It has four times the capacity of our other LĒVO infusion devices, allowing you to make significantly larger batches. It has four times the capacity of our LEVO II machine and can hold 4 ¼ cups (34 ounces) of liquid in its reservoir. It also comes with a Power Pod that has an herb capacity of 1¾ cups, or one ounce (28 grams). 
The LĒVO C simplifies the infusion process by taking care of the essential steps for you. That way, you can focus on other aspects of your business while your LĒVO device is concocting delectable infusions. It can activate hemp (significantly increasing its potency and allowing you to get more out of your flower) and create all kinds of infusions. This device can infuse honey, butter, milk, and many different types of oil, among other substances. 
If your small business sells edible gummies, it would typically take many hours to activate your herb, infuse coconut oil, prepare the gummy recipe, and allow it to set. However, the LĒVO C can streamline the entire process. Once the LĒVO C has finished activating and infusing your herb, you can make up to 100 hemp-infused gummies in as little as one hour. If you intend to make smaller batches, you could consider purchasing the equally efficient but lower-capacity LĒVO II or LĒVO Lux. 
If you're planning to make gummy edibles, we also recommend checking out the following products:
Gummy Mixer - Making gummies has never been easier than it is with this electrical gummy mixer. You won't need a saucepan or a spatula, and you can rely on the mixer to produce a consistent result every time. The mixer stirs your gummy mixtures so you don't have to. 
Gummy Trays - These gummy trays are super easy to use and each mold has a round, spherical shape. Each tray can hold up to 32 gummies. The trays come equipped with a snap-on lid that you can use to seal and store your gummies before you sell them. The lid is dry erase safe so you can label your creations with date and dosage.
Gummy Mixes - Our gummy mixes come in various flavors, including tropical peach, tart cherry, raspberry sherbet and strawberry lemonade. We also offer gummy-making kits that include our gummy mixer, gummy trays, house mixes, and other equipment you'll need to make world-class gummy edibles. 
MCT Oil - Our liquid MCT coconut oil is perfect for making gummies with its light flavor and health benefits. We also sell our MCT oil in a two-pack. 
Gummy Decorating Items - Add a little flair to your gummy products with our gummy decorating items, which include edible glitter, shimmer and sour gummy sugar in multiple flavors. 
Gummy Edibles Making Kit - Lastly, don't forget to check out our gummy edibles making kit, which includes all of the ingredients you'll require to make delicious, infused gummy edibles, as well as two silicone gummy molds. 
100 Gummies in an Hour Recipe
As a small business owner, you likely need to make larger batches of gummy edibles than the average hemp enthusiast. This recipe yields roughly 100 gummies using a small number of ingredients and it takes less than an hour to whip up. 
Before you make your gummies, you'll need to infuse coconut oil with the hemp strain of your choice. In our basic coconut oil infusion recipe, we recommend infusing 2 cups of MCT coconut oil with a Jumbo Pod of hemp, which equals about one ounce of dry herb. Use your LĒVO C to decarb the herb. Once the herb is activated, add the MCT coconut oil to the reservoir with your magnetic stirrer and infuse. Store the infusion in an airtight container or a Mason jar. You can calculate the correct time and temperature settings on our website. 
Related Posts:
Shop Now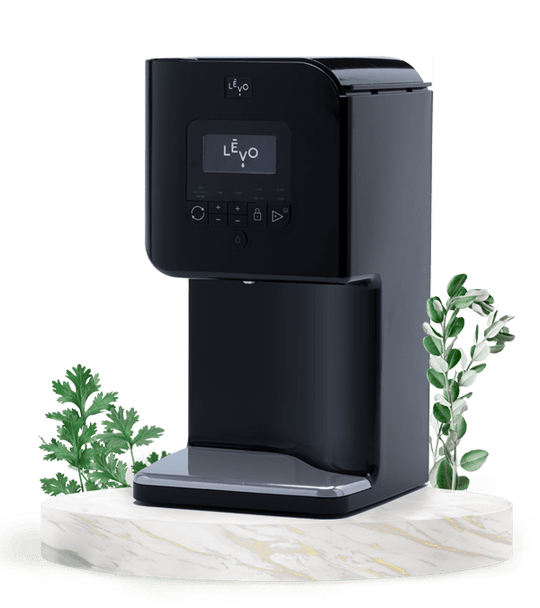 LĒVO II
The worlds first patented oil infuser that lightly dries herbs fresh from your garden, activates their maximum potency, and infuses them into just about anything. Great for daily, small batch, artisanal infusions.
SHOP LĒVO II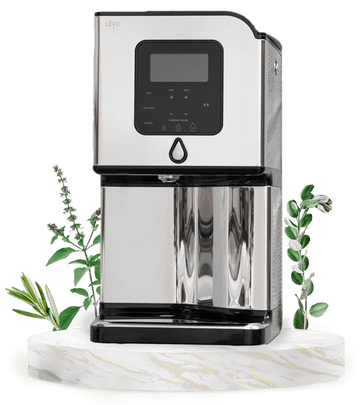 LĒVO LUX
Experience infüsionwith our most elegant, intelligent machine yet: LĒVO LUX. Artfully infuse any herb, spice, fruit, coffee bean, & more into oils, butters, and honeys to create Michelin Star-quality meals.
Shop LĒVO Lux
LĒVO C
LĒVO C is the first large batch infusing solution that is dishwasher safe, has a built-in activation cycle for maximum potency. Perfect for making large 1 liter batches for high frequency users and small businesses.
SHOP LĒVO C
LĒVO oil and butter infusers streamline the oil and butter infusion process, reduce mess, and minimize the smell of decarbing & infusing flower thanks to patented technology. With the ability to decarboxylate + infuse all-in-one machine,LĒVO is the only oil infuser of its kind.
LĒVO oil and butter infusers streamline the oil and butter infusion process, reduce mess, and minimize the smell of decarbing & infusing flower thanks to patented technology. With the ability to decarboxylate + infuse all-in-one machine,LĒVO is the only oil infuser of its kind.