Decarboxylation Machine: What is it, Where to Buy?
If you enjoy edibles, then eventually, you'll want to create your own. However, if you're producing your own frequently, a decarboxylation machine may be the ideal way to take your home edibles hobby to the next level. 
Decarboxylation machines, which are simple to operate, precise, and easy to use, can ensure that you get this stage right every time. Decarboxylation is essential whether you are creating lotions, cremes, tinctures, or your own edibles. It realizes the full potential of your herbs for their medicinal purposes.
The process of decarboxylation is sometimes referred to as "decarbing" your plant material before cooking, which is essential for activating the medicinal ingredients in them. If you are trying to figure out if your buds have been decarbed or not, all you have to do is break open a bud and look at it. If it's crumbly and breaks apart easily, then it has already gone through the process of decarboxylation.
Decarb machines are designed specifically for this purpose. They help ensure optimal results when heating your medicinal herb without losing or contaminating terpenes or other desired chemicals during a typical decarboxylation process.
A decarb machine like the LEVO II is an easy way to get everything done instead of using your oven, slow cooker, or pans at home. These long-used methods take much longer, cause significant odors, and won't be as effective as using a decarb machine. They can also lead to inconsistencies in the potency of your delicious creations.
What is a decarb machine, and what is it used for?
A decarb machine, as you could imagine, is used to first decarboxylate your herbs and then infuse them into products used for cooking, self-care, pet treats, and more.
These modern devices help you take some of the uncertainty out of producing edibles. You will know the precise temperature and time your herbs have been decarbed at, which makes gauging potency of the end result more consistent; and with a better taste.
The decarb process is simply the release of carbon dioxide through a reaction caused by heat. So why do you need to decarb your medicine before using it?
How does the decarboxylation process work?
The chemical process of decarboxylation is a critical aspect of making edibles. When you decarboxylate any medicinal herb, you remove a carboxyl group from the molecule. The removal of this carboxyl group releases carbon dioxide and turns the chemicals into a form that your body can absorb for use when digested.
So, for the flower to be effective during the infusion process, it must first be activated (decarbed). If you skip this stage of decarboxylation, then your medicine won't have much effect.
What are the benefits of using decarboxylation machines?
A decarboxylation machine can simplify your preparation process and cut down on variables that could prevent you from getting the full results you desire.
A decarboxylation machine allows you to efficiently prepare a large amount of infused butter or oils and then store it for later use. 
The best decarboxylation machines will enable you to complete the activation and infusion processes using a single countertop appliance. This eliminates messy clean-up and having to move your products around your kitchen or workspace.
LEVO II: The Best Decarboxylation Machine
The Levo II decarboxylation machine is, according to Good Housekeeping, "One of the first to create and patent this one-of-a-kind product to streamline herbal infusion." 
They say, "Operating the manual control panel during the infusing process was super intuitive. Clean-up was just as simple: All components of the machine that touch the oil or butter during the infusion process are dishwasher-safe." 
The Levo II simplifies the process and cuts out the guesswork of making edibles in large or tiny quantities. You can use time and temperature controls during the decarboxylation process, called "Activate" on the LEVO II. You can set these different temperatures to get your most desired result.
Once activated, the machine infuses your herb into any oil or solvent using an automated infusion process that simultaneously reduces the harshness of the product (taste and smell) and brings out the medicinal purpose of the flower.
The LEVO II is available in five attractive colors, including Pacific Blue and Honey Cream. It looks every bit as elegant as it performs.
What can I infuse my decarbed flower with?
Once the activation process is completed, you can infuse your freshly decarbed flower into various fats and oils like olive oil, coconut oil, and butter.


Many people use these devices to save money by making their own gummies, candies, infused brownies, and many other tasty edibles!
Final Words
Decarboxylation is a process that activates the medicinal chemical inside of any herb. If you skip this step, then your edibles will not have any effect.
Luckily, decarboxylation machines are available to simplify the process and ensure it happens consistently. Click here for complete information on our LEVO II.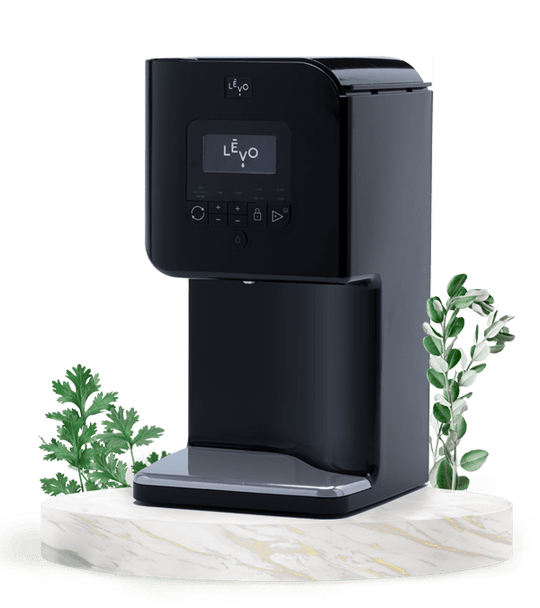 LĒVO II
The worlds first patented oil infuser that lightly dries herbs fresh from your garden, activates their maximum potency, and infuses them into just about anything. Great for daily, small batch, artisanal infusions.
SHOP LĒVO II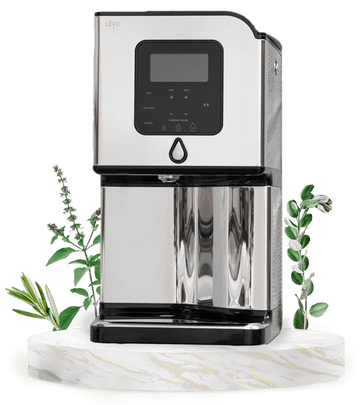 LĒVO LUX
Experience infüsionwith our most elegant, intelligent machine yet: LĒVO LUX. Artfully infuse any herb, spice, fruit, coffee bean, & more into oils, butters, and honeys to create Michelin Star-quality meals.
Shop LĒVO Lux
LĒVO C
LĒVO C is the first large batch infusing solution that is dishwasher safe, has a built-in activation cycle for maximum potency. Perfect for making large 1 liter batches for high frequency users and small businesses.
SHOP LĒVO C
LĒVO oil and butter infusers streamline the oil and butter infusion process, reduce mess, and minimize the smell of decarbing & infusing flower thanks to patented technology. With the ability to decarboxylate + infuse all-in-one machine,LĒVO is the only oil infuser of its kind.
LĒVO oil and butter infusers streamline the oil and butter infusion process, reduce mess, and minimize the smell of decarbing & infusing flower thanks to patented technology. With the ability to decarboxylate + infuse all-in-one machine,LĒVO is the only oil infuser of its kind.