Infüsiast Spotlight: Sef S.
From culinary experts to holistic healers, edible lovers and beyond, the LĒVO Love Club community is what makes our small business so incredibly special.
As part of a recurring series, we'll be shining the spotlight on infüsiasts to share their tips, tricks & infusion journeys. This month, we talked to Sef S., a LĒVO partner and social influencer who uses their platform to spread positive messages about neurodiversity. 

Proudly identifying as disabled, Sef uses the digital world as a platform to share fun skits, delicious plant-based recipes, and break down stigmas surrounding Autism. They've uplifted and informed hundreds of thousands of people across the globe with their voice and we are so happy to share their personal story and infusion journey with you today. 
Read our interview with Sef S. below and watch them make one of their favorite LĒVO recipes! 
Tell us a little bit about yourself and how you started your social media channels. 
I began blogging after I was clinically diagnosed as Autistic and ADHD at 22 years old, and I found a huge supportive community online. About a year later, I was diagnosed with Bipolar II as well as a connective tissue disorder called Ehlers-Danlos Syndrome, solidifying my decision to proudly identify as disabled.
I do a decent bit of serious writing about ableism within the autism healthcare field, but I'm more known for the silly skits I make in the name of documenting neurodivergent experiences as a culture to take pride in rather than a list of symptoms to be ashamed of.
How did you get started with infusion?
I've used herbal remedies to cope with anxiety and chronic pain for as long as I can remember, but I could tell that smoking was catching up with me and my lungs over the years. I tried to switch to store-bought edibles, but they were too pricey, and even the vegan ones were full of artificial colors. Like a lot of people with EDS, I'm a bouquet of allergies and food sensitivities, so I knew I was going to have to try making my own at home. I did a little research and that's how I found LĒVO!
What was your first experience with LĒVO like? 
As a chronically scatterbrained person, I've wasted a LOT of product over the years from getting distracted in the middle of stovetop infusions. Keeping a consistent temperature during decarboxylation and remembering to stir constantly throughout the infusion stage were the two steps that typically left me with burnt herbs, but my LĒVO does everything for me! When I first realized you could just push a couple buttons and walk away, I started laughing out loud. I couldn't believe how easy it was.
How has infusion impacted your life, if at all?  
In addition to saving my throat and lungs and furniture from smoke damage, infusion has opened up entirely new avenues for creativity in the kitchen. The holidays used to really stress me out, but now I'm actually looking forward to giving my friends a bunch of funky olive oils infused with things like lemon, rosemary, garlic, and sage. I even put a dried Thai chili directly into some toasted sesame oil and it came out great! 
What's your favorite thing to make with LĒVO?
I love making a vegan caprese salad by marinating firm silken tofu in a quality olive oil infused with a blend of flower, oregano, and garlic. All you need is a nice tomato and some fresh basil. It looks so impressive, but it only takes about five minutes to assemble! I don't typically use measurements when I cook (who am I to tell someone how many cloves of garlic to use?) but you can find a step-by-step visual guide on my food blog @stovegremlin on Instagram below. 
Who do you think could benefit from the use of a LĒVO?
Anyone who is curious about non-pharmaceutical pain management, anyone who enjoys edibles but isn't a fan of the price, potency, or ingredients list, anyone who wants to elevate their culinary prowess, or anyone interested in making their own customized skin and body care products at home.
What's one tip you have for someone just getting started with infusion? 
I like to substitute infused oils into the recipes I already love, but here's something I've learned: If you're working with medicinal herbs, remember that you can always add more, but you can't add less, so start slow with a blend of infused and non-infused oils and play with the ratio as you learn the best dosage for you and your body! And remember, you can always fill up your herb pod halfway for lighter infusions. 
Where can our readers find you? 
My main account is @sefscatterbrain on TikTok and Instagram, but you can check out everything I've been infusing on my plant-based and allergy-friendly food blog @stovegremlin on Instagram.
Shop Now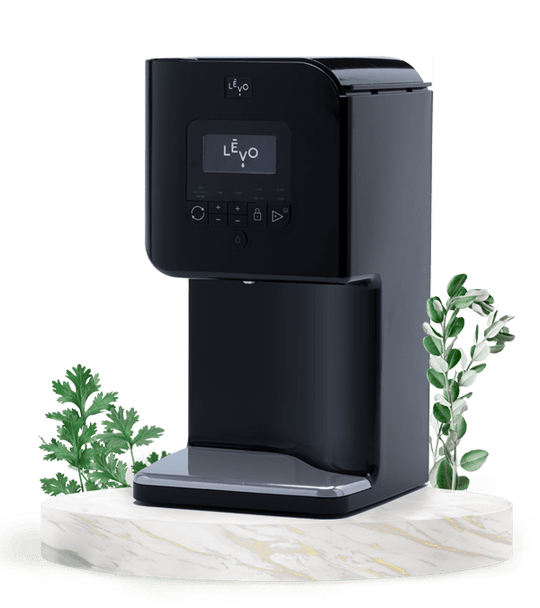 LĒVO II
The worlds first patented oil infuser that lightly dries herbs fresh from your garden, activates their maximum potency, and infuses them into just about anything. Great for daily, small batch, artisanal infusions.
SHOP LĒVO II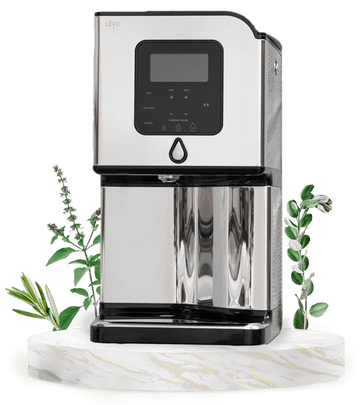 LĒVO LUX
Experience infüsionwith our most elegant, intelligent machine yet: LĒVO LUX. Artfully infuse any herb, spice, fruit, coffee bean, & more into oils, butters, and honeys to create Michelin Star-quality meals.
Shop LĒVO Lux
LĒVO C
LĒVO C is the first large batch infusing solution that is dishwasher safe, has a built-in activation cycle for maximum potency. Perfect for making large 1 liter batches for high frequency users and small businesses.
SHOP LĒVO C
LĒVO oil and butter infusers streamline the oil and butter infusion process, reduce mess, and minimize the smell of decarbing & infusing flower thanks to patented technology. With the ability to decarboxylate + infuse all-in-one machine,LĒVO is the only oil infuser of its kind.
LĒVO oil and butter infusers streamline the oil and butter infusion process, reduce mess, and minimize the smell of decarbing & infusing flower thanks to patented technology. With the ability to decarboxylate + infuse all-in-one machine,LĒVO is the only oil infuser of its kind.