Hemp is having a moment. The plant is quickly gaining popularity for its wide variety of potential medicinal uses and rich flavor. Hemp oil imparts a warm and nutty flavor to confections, dressings, roasted vegetables, and pesto. It also provides a wide range of health benefits, making it the perfect oil to keep in your pantry for any occasion. However, finding hemp oil can be a headache. Shelling out top dollar for hemp oil can also be painful.


Thankfully, with the LĒVO line of infusion products, you can craft premium hemp oil at home without the expense or hassle of scouring your local market. Making hemp oil doesn't have to be a labor-intensive process. The LĒVO family of products makes it safe and easy. Follow along to find out how you can use your LĒVO machine to craft hemp oil and start saving money and reaping the therapeutic benefits of this oil today. 
What Is Hemp Oil?
For many people, hemp is considered a medicinal botanical. It contains chemical compounds that may have health and wellness benefits in addition to high omega-6 and omega-3 fat concentrations. Hemp oil is extracted from the hemp plant, while hemp seed oil is made from hemp seeds rather than the entire plant.
While several potentially beneficial compounds are found in hemp oil, some of the most helpful substances in the oil are fats. Omega-3 and omega-6 are two forms of unsaturated or "good fats" that the body cannot make on its own. Since the human body cannot manufacture these fats, it is essential to consume them. Omega-3 fats are vital parts of cell membranes and may help prevent heart disease, stroke, and eczema. They may also support mental health. Omega-6 fats help provide energy and may play a role in supporting a healthy immune system.
What Is Hemp Oil Used For?
How can you use hemp oil? Some people use hemp seed oil as a cooking oil. It imparts a warm and nutty flavor to foods. However, hemp seed oil has a low smoke point at only 325 degrees. With such a low smoke point, it is not an oil you want to use in high-heat cooking or searing. The rich flavor of hemp oil makes it a great finishing oil drizzled on top of hummus or roasted vegetables. It is also a flavorful medium for making salad dressings, sauces, or pesto.


Due to its perceived medicinal properties, hemp oil can be used topically and in skin care products. Hemp oil is easily absorbed into the skin and helps prevent moisture loss. It may also help balance oily skin without clogging the pores and reduce the appearance of fine lines. Due to its moisturizing properties, hemp oil may also help relieve the pain and itching associated with psoriasis, dermatitis, and other skin conditions when applied topically. People also apply the oil to their hair and nails, claiming hemp oil increases shine and may make hair and nails stronger.
Hemp oil is also a popular additive in skin care products like lotions, balms, and lip conditioners. There is even some indication from studies that hemp oil is a mild antibacterial agent. It may inhibit the activity of certain bacteria that cause dangerous skin infections.
Benefits of Hemp Oil 
Now that you know how to use it, why should you consider using hemp oil? The compounds in hemp oil bind to receptors in the brain, promoting relaxation and a sense of pleasure. Hemp oil is a good choice if you are interested in making edibles like gummies and brownies, which can combat chronic pain, inflammation, and insomnia. Some of the benefits associated with hemp oil include:
Improved cardiovascular healh

Improved brain health

Easing the symptoms of

menopause

and PMS

Weight loss

Treating

skin conditions

such as acne, psoriasis, and eczema

Easing

inflammation

 
Hemp oil can be applied topically, used in skin care products, consumed with food, or taken as a supplement.  Hemp oil is packed with vitamins, minerals, and powerful fatty acids like omega-3 and omega-6. Adding hemp oil to your routine can open a world of therapeutic possibilities. Exploring the benefits of hemp oil has never been easier, thanks to LĒVO. Now you don't have to search multiple stores looking for a good-quality hemp oil you can afford. Instead, you can make it at home for a lot less than you think. 
Using the LĒVO to Make Infused Hemp Oil 
Whether you want to make hemp oil for its physical or therapeutic benefits, creating hemp oil at home with LĒVO is simple. You can use any of the LĒVO family of infusion machines to craft high-quality hemp oil. 
The LĒVO C is the best machine for creating large batches of hemp oil at home or in a small business setting. The LĒVO C comes with a jumbo pod capable of holding one ounce of dry plant material and a one-liter glass basin. Both are 100 percent dishwasher safe. 
The LĒVO II is for anyone who wants to make culinary-grade infusions at home. It comes in stylish colors and features precise time and temperature controls. It helps take the guesswork out of making homemade infusions, so you get the perfect result every time. It also has built-in dry and activate, or decarb, modes to prepare your ingredients for the infusion process, extending shelf life and increasing potency. 

For the Michelin-star experience, look no further than the elegant LĒVO Lux. This machine is as powerful as it is classy. With a range of real metal, mirror finishes, and an easy-to-use touch screen, the LĒVO Lux is like no other infusion machine on the market. It builds on the success of the LĒVO II and introduces a new and improved Dry+ cycle. With LĒVO Lux, you always get the most out of your dried herbs and flowers.
How to Make Hemp Oil 
Making hemp oil is easy when you have the power of LĒVO at your fingertips!
Shop Now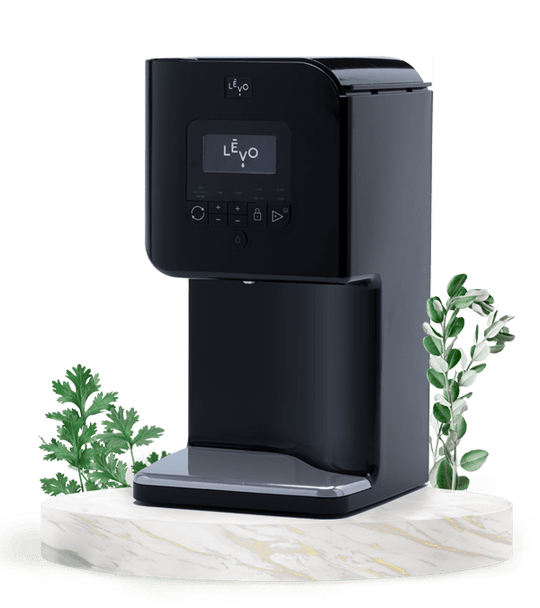 LĒVO II
The worlds first patented oil infuser that lightly dries herbs fresh from your garden, activates their maximum potency, and infuses them into just about anything. Great for daily, small batch, artisanal infusions.
SHOP LĒVO II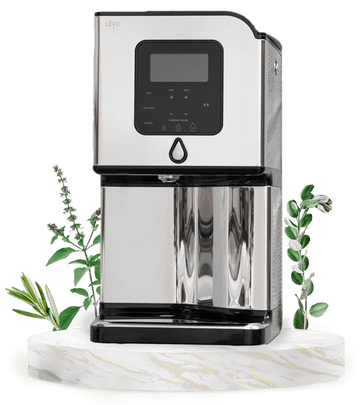 LĒVO LUX
Experience infüsionwith our most elegant, intelligent machine yet: LĒVO LUX. Artfully infuse any herb, spice, fruit, coffee bean, & more into oils, butters, and honeys to create Michelin Star-quality meals.
Shop LĒVO Lux
LĒVO C
LĒVO C is the first large batch infusing solution that is dishwasher safe, has a built-in activation cycle for maximum potency. Perfect for making large 1 liter batches for high frequency users and small businesses.
SHOP LĒVO C
LĒVO oil and butter infusers streamline the oil and butter infusion process, reduce mess, and minimize the smell of decarbing & infusing flower thanks to patented technology. With the ability to decarboxylate + infuse all-in-one machine,LĒVO is the only oil infuser of its kind.
LĒVO oil and butter infusers streamline the oil and butter infusion process, reduce mess, and minimize the smell of decarbing & infusing flower thanks to patented technology. With the ability to decarboxylate + infuse all-in-one machine,LĒVO is the only oil infuser of its kind.