How to Make the Ultimate Infused Breakfast Burrito
A breakfast with eggs, cheese, and zesty spices starts your healthy morning with a kick. By adding an infused oil, you will complement the superfoods found in the following recipe. This ultimate breakfast burrito recipe rolls up your favorite flavors and infused botanical oil into one tasty dish! 
Keep reading to learn more about this scrumptious recipe. It is so quick and easy you'll want to whip this infused breakfast burrito up several mornings a week. 
Preparing To Make Botanically Infused Burritos 
Start by preparing your cooking equipment and gathering your utensils. You will need a saucepan, spatula, plate, and bowls for the ingredients. 
Selecting An Infused Oil Or Butter
Burritos are perfect for any time of day, but you may want to use oil infused with botanicals that give you a mental lift and even a physical energy boost. You may use a pre-made infused oil, or you can prepare your own botanically-rich oil by a traditional method explained in the next section. 
Another option (a better one at that!) would be to use a home infuser. A home infusing machine increases the ease and efficiency of the infusion process, while allowing you to control the ingredients of the products you consume. For this reason, we created LĒVO, a line of home infusion machines and products that help you streamline the process of creating deliciously infused meals, treats, topicals and more.
How to Make Homemade Botanically Infused Oil 
In order to begin the process of making homemade botanically infused oil, you must dexarboxylate or 'decarb' the flower. You can do this the traditional way, or you can use a great infuser like LĒVO II. This process activates the botanicals and later, facilitates the bonding of the flower's botanicals to the oil. 
If you do not have a home infusion system, you can follow these directions for decarboxylating your raw flowers. 
Oven Decarboxylating
Break up your flower by hand, or coarsely grind it. Heat the evenly spread flower on a cookie sheet in an oven between 230-250 degrees for 25-30 minutes.
Note: Make sure to agitate the tray halfway through, or every 10 minutes- and of course, be sure not to burn your flowers up! Traditional ovens are notorious for not having exact temperature settings and also, your altitude can cause varied results. 
Finding the Right Flower to Oil Ratio for You 
In general, many infused edible recipes call for a flower to butter ratio of one ounce of decarbed and ground flower to roughly one pound of butter or sixteen ounces of oil. You can determine the right potency for you by adjusting the flower to carrier oil portions. 
Calculating Botanicals-to-Oil Ratio  
You can estimate how concentrated or potent your botanicals might be by using the following sample calculation and making the necessary adjustments: 
½ ounce of herb to 8 ounces of oil. This is a general rule of thumb to consider- adjust as desired. 
Many consider this old-school formula reliable for estimating your botanical's potency, but some prefer using home infusers for greater accuracy, efficiency, and control- like you can achieve using the LĒVO II. 
Home oil infusers also promote consistent medicinal dosing. If you are going to regularly make your own infused edibles, this kind of equipment is an investment. Over time, the LĒVO II machine provides a cost, material, and time-effective benefit for making incredible, evenly infused culinary creations.
After you've chosen your desired ratio, heat your butter or oil in a saucepan. Heat on low, and melt. 
Then stir in your decarbed flower and keep stirring for approximately 20 minutes. Strain the mixture through a cheesecloth and store in tinted jars, or use as needed. 
Of course, using the LĒVO II will combine both of these steps into one AND remove the guesswork. We even have a super handy app with a built-in calculator to aid in your process.
Learn More About Home Infusers  
Home oil infusers are a must-have for anyone who loves to cook or bake, but none compare to LĒVO's line of home infusion machines. A home infuser makes high-quality oil, butter, dressings, and more with greater precision than the traditional home/oven or stove-top methods of botanical infusing. Ready to elevate your morning and make the ultimate breakfast burrito?! Scroll down for this recipe or check our blog post featuring 12 Infused Breakfast Recipes that will help you get your day started!
Are you ready to expand your palate of culinary skills into the world of home infusions? 
LĒVO has a library of recipes, educational content, calculators, photos, and MORE available on our website, or visit us on YouTube to see videos of recipes and our products in action!. Not sure where to start? Take the LĒVO Quiz to see which machine is right for you!" #LĒVOmade
Shop Now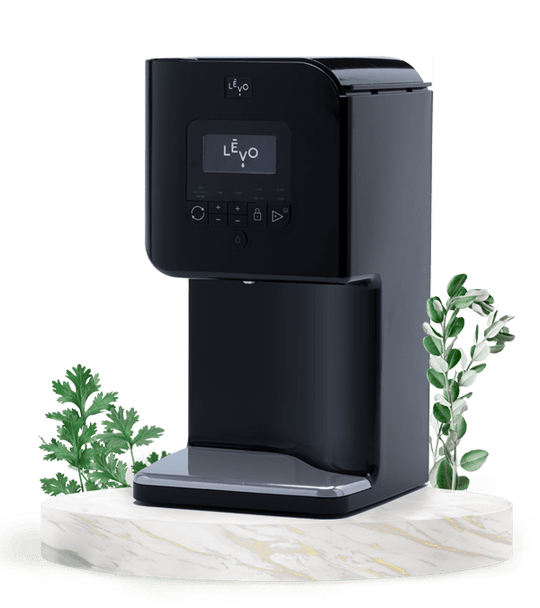 LĒVO II
The worlds first patented oil infuser that lightly dries herbs fresh from your garden, activates their maximum potency, and infuses them into just about anything. Great for daily, small batch, artisanal infusions.
SHOP LĒVO II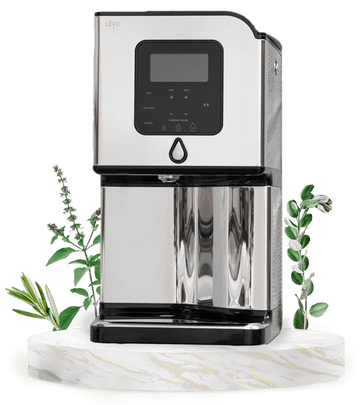 LĒVO LUX
Experience infüsionwith our most elegant, intelligent machine yet: LĒVO LUX. Artfully infuse any herb, spice, fruit, coffee bean, & more into oils, butters, and honeys to create Michelin Star-quality meals.
Shop LĒVO Lux
LĒVO C
LĒVO C is the first large batch infusing solution that is dishwasher safe, has a built-in activation cycle for maximum potency. Perfect for making large 1 liter batches for high frequency users and small businesses.
SHOP LĒVO C
LĒVO oil and butter infusers streamline the oil and butter infusion process, reduce mess, and minimize the smell of decarbing & infusing flower thanks to patented technology. With the ability to decarboxylate + infuse all-in-one machine,LĒVO is the only oil infuser of its kind.
LĒVO oil and butter infusers streamline the oil and butter infusion process, reduce mess, and minimize the smell of decarbing & infusing flower thanks to patented technology. With the ability to decarboxylate + infuse all-in-one machine,LĒVO is the only oil infuser of its kind.