What if we told you there was a hydroponic farm growing rare herbs and edible flowers, nestled right in downtown Manhattan?
We were pretty thrilled to experience 
Farm.one
last week in person, trying a variety of their flavorful herbs and flowers which are a hit with restaurants and amateur chefs in NYC. We sat down with their CEO Rob Laing to discuss some of the best herbs for infusion and how
Farm.one
began.
I guess I decided I didn't want to just sit in meeting rooms tapping away on laptops my whole life.
A few years ago after becoming quite fat, unhealthy and sick from devoting my time to my previous startup
(Gengo.com, a translation technology platform) I made a quite radical change in what I ate, towards whole plant food. If you start eating that way your plate becomes full of color and life in this quite dramatic way.
When I finally left Gengo, I made a beeline to culinary classes, visiting farmers' markets and trying to understand more about plants, food and cooking, particularly with unusual and rare ingredients. I became intrigued by the idea of bringing these weird and wonderful herbs and flowers to the middle of a concrete jungle like New York.
So I tapped away on a laptop for a few months, but with the idea to find out how to build a hydroponic farm. In April 2016 we installed at the Institute of Culinary Education here in Manhattan, and we've been experimenting ever since. We've grown over 300 different varieties to date, and we're fortunate to have around a dozen of the best chefs in the city now using our product.
What are our favorite herbs grown at Farm.one?
I personally love the sorrels / oxalis plants we have. From red-veined sorrel, to green sorrel, to buckler-leaf sorrel, to the purple oxalis, iron cross and wood sorrel varieties. These all have variations on a sour, tangy note which is so fun to use in dishes in place of citrus or vinegars. You can pair them with more fatty, rich ingredients to give balance to a dish. They bring acid into a recipe without introducing liquid, which is cool. And they all look so great, from the rich velvety purple oxalis to the bright yellows of wood sorrel flowers.
Can you suggest any specific herbs you grow at Farm.one that would be ideal to infuse using LEVO?
I'm a huge fan of anise flavors, which can be found in fennels (we grow the fronds and the flowers) and also anise hyssop, chervil and a few others. Oils using those flavors are exciting and different. On another tangent, we grow some really pungent fresh aromatics like sage, rosemary, lavender. There's also a spicy Za'atar marjoram which would be excellent. The most "out-there" herb I'd like to try would be papalo, which is a cilantro-like central Mexican herb with a powerful citrus and grassy note.
What is the rarest herb(s) available?
If you avoid grocery stores and shop at farmer's markets (or at
Farm.One
) you can quickly step beyond the standard 5 or 6 herbs like basil, mint, rosemary, parsley, cilantro, oregano. In New York where we are based, you can come across purple basils, lovage, summer savory, lemon verbena and other great herbs in the summertime. But one of the hardest to find anywhere, we've discovered, is Nepitella - originally a Tuscan herb that is related to mint and oregano, with beautiful, tiny, delicate pink flowers. That's been a favorite with our chefs, because it's very hard to find and so special on a plate.
For someone new to herbs and edible flowers, what's an easy way to begin incorporating them into your diet?
It's amazing how simply tearing or chopping fresh herbs and then sprinkling them on something so-so can make the dish exciting. Sometimes we pop downstairs to the food court in our building with bunches of fresh basil in hand, for us to sprinkle on a pizza or a pre-made salad and make it pop. I say some of the most fun meals are made simply like that.
Using herbs often is about feeling potency as much as it is balancing flavor. For example, basil encourages abundance, whereas tarragon or rosemary require a much gentler touch to not overpower and ruin a dish. So taste of course as you go. Tabbouleh is probably one of the easiest and most fun ways to use huge quantities of mint and parsley - but you can also switch it up to use parsley and cilantro or cilantro and mint for an equally-good alternative.
Sweetness can be made more inviting and complex with the flavor notes of fresh herbs, so d
on't forget them in dessert!
A delicate placement of fresh herbs and flowers can elevate a simple dessert to excellence - and it's one of the last places home cooks normally use them. One of our customers, Michelin-starred L'Appart, created a special dish recently featuring our Za'atar marjoram and nepitella in a dessert of wild strawberries, goat's cheese and 'burnt toast' which worked incredibly well.
Finally, edible flowers are so special and so rarely used at dinner parties and less-formal meals, it's such a shame. Chefs who love their produce, and have their second home at the farmer's market or in their own garden show how visually-compelling edible flowers can be on even simple dishes.
If you look at
Scott Winegard
's work for example, he uses flowers to brighten and create focal points on the plate, making dishes as visually compelling as they are tasty. Not every home cook can reach this level of skill, but I say have fun with it, experiment, try all the edible flowers out there and create delight for your guests.
Want to try Farm.one's herbs at home? You can order a sampler box for only $20 for delivery anywhere in Brooklyn, Manhattan and Queens.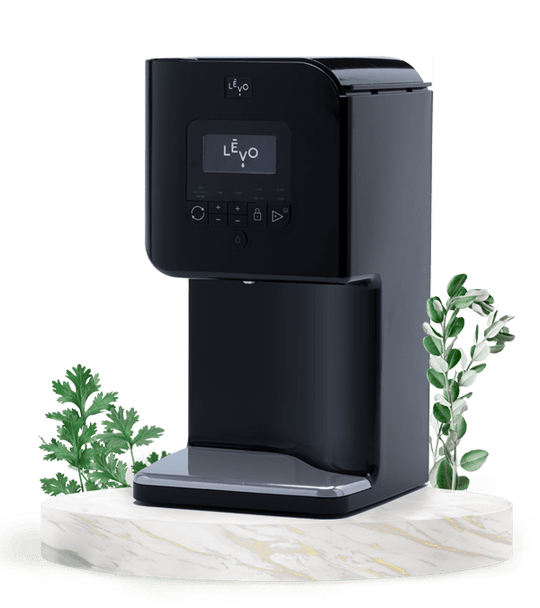 LĒVO II
The worlds first patented oil infuser that lightly dries herbs fresh from your garden, activates their maximum potency, and infuses them into just about anything. Great for daily, small batch, artisanal infusions.
SHOP LĒVO II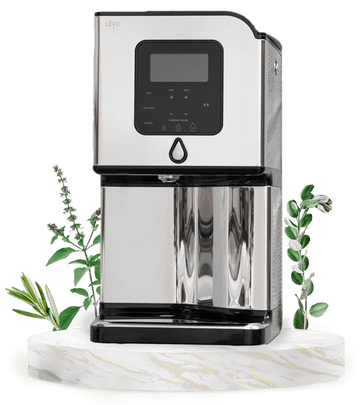 LĒVO LUX
Experience infüsionwith our most elegant, intelligent machine yet: LĒVO LUX. Artfully infuse any herb, spice, fruit, coffee bean, & more into oils, butters, and honeys to create Michelin Star-quality meals.
Shop LĒVO Lux
LĒVO C
LĒVO C is the first large batch infusing solution that is dishwasher safe, has a built-in activation cycle for maximum potency. Perfect for making large 1 liter batches for high frequency users and small businesses.
SHOP LĒVO C
LĒVO oil and butter infusers streamline the oil and butter infusion process, reduce mess, and minimize the smell of decarbing & infusing flower thanks to patented technology. With the ability to decarboxylate + infuse all-in-one machine,LĒVO is the only oil infuser of its kind.
LĒVO oil and butter infusers streamline the oil and butter infusion process, reduce mess, and minimize the smell of decarbing & infusing flower thanks to patented technology. With the ability to decarboxylate + infuse all-in-one machine,LĒVO is the only oil infuser of its kind.