What Are the Best Edibles for Anxiety?
In today's fast-paced world, with numerous financial and social responsibilities, it's no wonder that anxiety has become a common issue. While some individuals turn to pharmaceuticals, others prefer natural methods and psychological therapy. If you're seeking a combination of techniques to alleviate anxiety, incorporating anxiety-reducing edibles into your routine can provide a much-needed sense of tranquility. So, what are the best edibles for anxiety? Join us as we explore the process of creating or obtaining some of the finest options for anxiety-supporting edibles.
Botanicals for Combating Anxiety
According to data from the National Institute of Mental Health, approximately 31% of adults in the United States experience an anxiety disorder at some point in their lives. Anxiety is characterized by intense feelings of dread, fear, or uneasiness, often resulting from stress. While anxiety is a normal response, if it is left unmanaged, it can become overwhelming and disrupt daily functions.
Certain botanicals possess anxiety-reducing properties that can help calm the mind and provide mental clarity. However, selecting the right botanicals for anxiety treatment can be challenging. Terpenes, which are compounds found in certain botanicals, play a vital role in determining the plant's physical and psychoactive effects. Some terpenes promote increased energy levels, while others induce relaxation and sleepiness. It's crucial to choose the appropriate botanical that enhances tranquility while avoiding strains that may be counter-productive.

Hybrids, which combine characteristics of different plants, are often considered the best botanicals for alleviating anxiety. Some hybrid varieties stimulate energy and enhance mental clarity and creativity, while others promote relaxation and sleep. Herbs like chamomile, lavender, and lemon balm have shown the potential in reducing feelings of uneasiness. If you need assistance selecting a botanical suitable for an anxiety-reducing infusion, consult a trusted retailer who can guide you in the right direction or check out our LĒVO blogs on herbal education.
The Art of Infusion: Where Great Edibles Begin
Why should you consider infusion? Making your own infusions and edibles is more straightforward and cost-effective than you might think. With our line of infusion machines, you gain the power to create a wide range of culinary and topical products at a fraction of the cost. Moreover, you have full control over the ingredients you use, ensuring transparency and quality.


In the past, culinary infusions were reserved for experienced chefs and skilled home cooks. Today, our line of infusion machines and accessories democratize the process, enabling anyone to create high-quality infusions from the comfort of their own home. To learn more about LĒVO's unique design or compare machines to find the best match for your needs, click here.
The Best Edibles for Anxiety
Creating anxiety support edibles at home can be a hassle-free and mess-free process. However, if you prefer to start with a premade option, Infused by LĒVO gummies are an excellent choice to start with. They come in carefully curated combinations of herbal healing and vitamins for optimal wellness.

If you decide to make your own anxiety-reducing edibles, it's important to select a strain that aligns with the desired effects you are seeking. Additionally, consider the medium in which you want to infuse your botanicals. The choice of medium will likely depend on the type of edible you wish to create, whether it's gummies, brownies, or another recipe. Our blog features a wide range of recipes that can be elevated with the botanical of your choice, so we suggest exploring there to find a recipe that excites your taste buds.

If you have never tried an anxiety-reducing edible before or you are unsure about the anti-anxiety properties of your chosen botanical strain, we recommend starting with a microdose. Microdosing empowers you to have better control over the physical and psychoactive effects of the medicinal compounds in your creations. It involves introducing only a small amount of botanicals into your infusions and edibles, allowing you to gently explore the benefits with a more subtle effect on the body and mind.
Types of Edibles You Can Make for Anxiety Support
Finding the right anxiety supporting edible that is best suited for you is important. Here are a few of our favorites and notably most popular forms of edibles used to help reduce anxiety.
Gummy Edibles for Anxiety
Gummies are one of the best and easiest ways to introduce the powerful anxiety-reducing influence of botanicals to your mind and body. What makes gummies the ideal edible for anxiety? They are easy to make and highly customizable. You can get started with this Edible Gummies Recipe. To enhance the flavor of your creation, consider substituting water with fruit juice. Pineapple, apple, and cherry juices are fantastic options. You can also use infused MCT oil instead of infused coconut oil.

Baked Edibles for Anxiety
Sweets like cookies and brownies are also great choices for anxiety-reducing edibles. These sweet treats are often associated with warm and loving memories. Even before the botanical effects of the edible take hold, eating an infused brownie can trigger feelings of comfort and joy. Follow this Easy Brownie Edibles recipe for step-by-step instructions.

Anxiety-Reducing Tea
For an easy and calming anxiety buster, add botanical-infused honey to a warm, steaming cup of lavender or chamomile tea. Infused honey will complement the anti-anxiety properties of lavender and chamomile, providing a soothing experience at the end of a busy day - or anytime - and serving as a reminder to take a few moments for yourself. Consider avoiding caffeinated beverages like coffee and caffeinated teas, as caffeine can exacerbate anxiety symptoms and may trigger panic and paranoia when mixed with certain botanical compounds. Infusing honey with botanicals is a simple process with LĒVO. Check out this article and recipe for detailed instructions.
Do you know what else helps ease anxiety? Belonging to a supportive community. If you're seeking a new group of friends, consider joining The
LĒVO Love Club
on Facebook. It's a welcoming community of LĒVO enthusiasts who share recipes and offer helpful tips and tricks for creating homemade infusions. Join today to discover more anxiety-busting ideas and the opportunity to connect with like-minded individuals.
Shop Now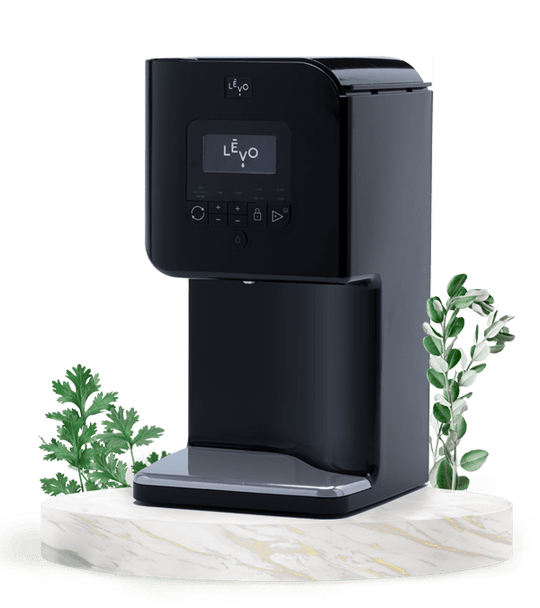 LĒVO II
The worlds first patented oil infuser that lightly dries herbs fresh from your garden, activates their maximum potency, and infuses them into just about anything. Great for daily, small batch, artisanal infusions.
SHOP LĒVO II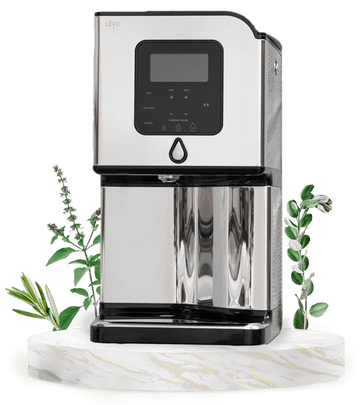 LĒVO LUX
Experience infüsionwith our most elegant, intelligent machine yet: LĒVO LUX. Artfully infuse any herb, spice, fruit, coffee bean, & more into oils, butters, and honeys to create Michelin Star-quality meals.
Shop LĒVO Lux
LĒVO C
LĒVO C is the first large batch infusing solution that is dishwasher safe, has a built-in activation cycle for maximum potency. Perfect for making large 1 liter batches for high frequency users and small businesses.
SHOP LĒVO C
LĒVO oil and butter infusers streamline the oil and butter infusion process, reduce mess, and minimize the smell of decarbing & infusing flower thanks to patented technology. With the ability to decarboxylate + infuse all-in-one machine,LĒVO is the only oil infuser of its kind.
LĒVO oil and butter infusers streamline the oil and butter infusion process, reduce mess, and minimize the smell of decarbing & infusing flower thanks to patented technology. With the ability to decarboxylate + infuse all-in-one machine,LĒVO is the only oil infuser of its kind.