The Ultimate Lecithin Guide: What Every Edible Maker Should Know

You may have noticed that we've just added Sunflower Liquid Lecithin to the LĒVO product roster, but what is it and how can it help power up your infusions? Let's dive in! 
Lecithin is a common food additive that attracts and can bind both fatty ingredients and water-based ingredients- acting as an emulsifier. However, it has a wide range of other applications in home and commercial kitchens and bakeries.
It is commonly produced from egg yolk, soybeans, and sunflower oil. 

Adding lecithin to a baked good can result in a finished product that is durable — meaning, it doesn't fall apart while being eaten.
Interestingly, it can also give baked goods longer shelf life. 
Lecithin is also a source of choline, an important nutrient that can improve liver function and lower cholesterol.
The importance of adding lecithin to an edible baked good is straightforward. Recipes for baked goods all have some water-based ingredients in them, like sugars, cocoa, dairy products like milk or cream, and of course, water itself. 
However, Lecithin can also be a part of an 'infused solution.' Commonly this is made by infusing coconut oil, butter, or another oil with a plant botanical that has gone through the process of decarboxylation (decarbing). 
This process is critical to making any kind of edible that will have the desired effect, and hold its form well- for you and your friends to enjoy. 
Don't Forget to Decarb
Ever wonder why you usually can't feel the effects of eating raw flower? You have to heat it up gently in order to activate it. This is why you can smoke or vape flowers: because the act of smoking/vaping 'activates' the flower with heat, which releases the active ingredients. 
Often, edible recipes require adding an infusion of oil and hemp in order to be created and enjoyed. 
Luckily for LĒVO II owners, we've brought the 'decarbing' process into the machine. This not only greatly helps to reduce the smell associated with decarbing, but it also supports the ease of cleanliness, and overall accuracy of the process.
How to Decarb Using L
Ē

VO II 

1. Our recommended default setting for your LĒVO II's Activate (decarb) cycle is 240ºF/116ºC for 30 minutes.   

2. We also recommend keeping your herbs safe with use of the our Power Pods and pod protectors. This will help to keep your flowers safe from the direct heat of the reservoir.

3. Should you want to increase the efficiency (and potency) by decarbing more flower at once, take a look at doubling you capacity with a second Power Pod. You can also find an extra Power Pod in our spare parts kit for LĒVO II, which is great to have for non-flower infusions or when your other parts are in the dishwasher. 

Now that we have a basic understanding of how lecithin is used, let's dive deeper. 

Lecithin's emulsifying properties help bind the water-based ingredients to the infused oil. Lecithin promotes an even distribution of the infusion with water-based ingredients (which can also include honey). 

One of the problems with the older, traditional method of decarbing and creating stove-top infusions was; many cooks found their edible was really potent in some places and had no effect at all in others. That was because the oil(s) and water-based ingredients are chemically resistant to mixing evenly. With lecithin, the decarbed flower botanicals can be distributed more evenly in the edible, provided you mix them thoroughly at every stage of the recipie. 

Bonus: Lecithin can also help your body absorb the infusion more fully, which can enhance the effects of your edible.

FYI: Lecithin has a few other health benefits that may make you want to add it to other dishes. It can aid in digestion, which means it can help people with irritable bowel syndrome and ulcerative colitis. It can also help lower cholesterol levels and improve liver function. 

Soy and sunflower-based lecithin are both readily available, but for many cooks, sunflower may be preferable because some people are allergic to soy and that can be dangerous. You can easily find lecithin in powder and liquid varieties. 
How to Use Lecithin in an Edibles Recipe

Note: Lecithin is commonly used as a dough conditioner when baking bread and it's also used in gummy recipes. If you'd like to know more about making your own gummies, we've got this great gummy recipe for you to try. We also have our own liquid sunflower lecithin to help simplify your shopping and get you back to creating.
Of course, if you'd like to just jump into a tasty, four-flavor gummy mix set, ours already has the lecithin in it.

A general rule of thumb is to add lecithin to a recipe is to add a teaspoon of lecithin to a cup of liquid in the recipe. 
You might want to consider that if you add lecithin directly into the oil-based infusion, that could change the amount of liquid required when baking the edible. So adjust as necessary. 
Another way to measure lecithin into a baked recipe is to add a teaspoon and a half of lecithin for every egg used.
Add the flavorings and other binder ingredients, and be sure to mix the batter or dough thoroughly. It's better to mix too much than not enough.
Of course, you should sample all your edibles to be sure you didn't add too much lecithin. If the taste of lecithin is too strong, cut down the amount next time you bake. It's great that you're servicing your baked goods with lecithin, just don't use too much. 
One way to make the best use of not only your lecithin, but of your time, effort, and ingredients is to use an infusions machine to simplify and co-join your decarbing and infusing into one creative, yet controlled step. 
The LĒVO II is easy to use and excellent for obtaining the precise, yet adjustable specifications you desire for your infusions.
Not only that, cleanup is super simple. All of the LĒVO II parts can go straight into the dishwasher as you wait for your infused brownies to cool down.
Are you ready to expand your palate of culinary skills into the world of home infusions? LĒVO II has a library of recipes, educational content, calculators, photos, MORE available on our website, or visit us on YouTube to see videos of recipes and our products in action!. Not sure where to start? Take the LĒVO II Quiz to see which machine is right for you!" #LĒVOMade
Shop Now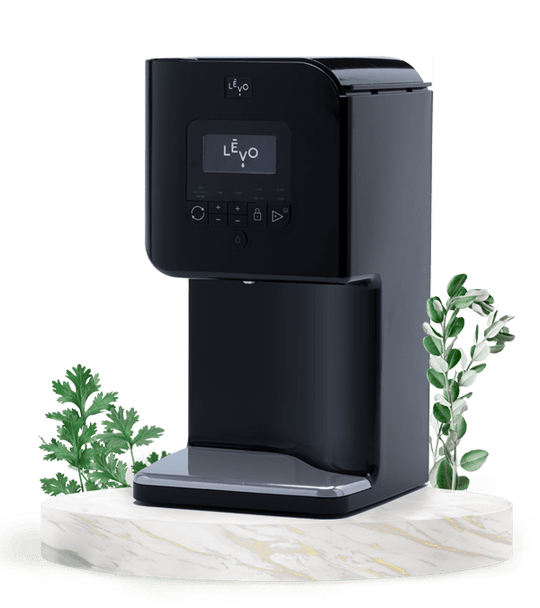 LĒVO II
The worlds first patented oil infuser that lightly dries herbs fresh from your garden, activates their maximum potency, and infuses them into just about anything. Great for daily, small batch, artisanal infusions.
SHOP LĒVO II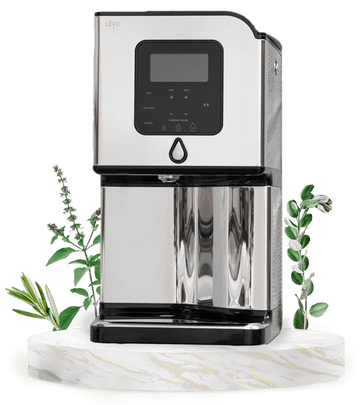 LĒVO LUX
Experience infüsionwith our most elegant, intelligent machine yet: LĒVO LUX. Artfully infuse any herb, spice, fruit, coffee bean, & more into oils, butters, and honeys to create Michelin Star-quality meals.
Shop LĒVO Lux
LĒVO C
LĒVO C is the first large batch infusing solution that is dishwasher safe, has a built-in activation cycle for maximum potency. Perfect for making large 1 liter batches for high frequency users and small businesses.
SHOP LĒVO C
LĒVO oil and butter infusers streamline the oil and butter infusion process, reduce mess, and minimize the smell of decarbing & infusing flower thanks to patented technology. With the ability to decarboxylate + infuse all-in-one machine,LĒVO is the only oil infuser of its kind.
LĒVO oil and butter infusers streamline the oil and butter infusion process, reduce mess, and minimize the smell of decarbing & infusing flower thanks to patented technology. With the ability to decarboxylate + infuse all-in-one machine,LĒVO is the only oil infuser of its kind.