24 Hours with LĒVO: Infused Beverages Edition
We know LEVO is a versatile machine for cooking. But it's more than a useful tool for healthy meal prep or making delicious edibles. It's something you can use to kickstart your day, refresh your afternoon, and relax your evening, one infused drink at a time. So let's get into the nitty-gritty of just how versatile it can be by exploring 24 hours with LEVO for your everyday beverages—and making them anything but.
Consider the tea spilled. 
Using LEVO to Kickstart Your Day
LEVO is the perfect addition to any morning, whether you start your days with a smoothie and a workout or coffee and the news.
Or, if you're like me, coffee and frantic scurrying trying to get out the door on time with the occasional today's-the-day-I-start-to-eat-healthier smoothie. (Hey, with LEVO, today might be the day!)  
Infused Beverages for the AM Gym Goer
If you work out in the mornings, LEVO will up your game. You can use it to make special, flower-infused oil that can help you stay present in your workout, increase your pain threshold to allow for more reps, and help with recovery so you're not as sore tomorrow.
To take advantage of these benefits with your LEVO, try the C-D Superfood Smoothie recipe. It uses fresh bananas, chia seeds, and Chaga mushroom powder in combination with flower-infused oil for major botanical benefits. Plus, with LEVO you can make 16 ounces of flower-infused oil at once, so you can easily make this smoothie every morning without having to go through the infusion process each time.
C-D Superfood Smoothie Prep Time
2 hours

to make the flower-infused oil (

coconut

or

olive

). I'd suggest doing this the night before unless you're

really

ambitious in the mornings.

5 minutes

in the AM to blend it all together!   
Infused Beverages for the Coffee Lover
For those of us who need coffee first, don't worry, LEVO's got that covered too.
Mornings are often stressful, particularly Mondays, but with LEVO you can infuse your coffee with calming lavender following either the Blueberry Lavender Matcha recipe or the Lavender Latte recipe. Both deliver the anti-inflammatory and anxiety-reducing benefits of lavender, but the matcha one offers about half the amount of caffeine as espresso. Although, fair warning, matcha's buzz is often more energizing and longer-lasting than coffee or espressos.
Blueberry Lavender Matcha Prep Time
2 hours and 10 minutes

to create your blueberry lavender simple syrup. You have to make a simple syrup with the blueberries before infusing with lavender, so this is probably something you'll want to do the night before. But, again, you can make a larger quantity so you don't have to do it every night.

5 minutes

in the AM to whisk it up!
Lavender Latte Prep Time
2 hours and 10 minutes

to create your simple syrup and lavender infusion.

10 minutes

in the AM to brew some coffee and add your infusion!
If you're looking to start your day off on a high note, try making Flower-Infused Condensed Milk the night before. This recipe has only two ingredients—psychoactive flower and condensed milk—but it takes three hours to infuse so it's not something you can knock out while your coffee brews.
Once you've got your infused condensed milk, use it to make Vietnamese Iced Chicory Coffee for a calm morning. Keep in mind, chicory doesn't have any caffeine, but you can mix it with regular coffee for a half-caff drink.  
Or for the easiest infused coffee beverage of them all, try a Bulletproof coffee style. All it requires is infused MCT oil and coffee. Add butter for extra richness. 
Using LEVO to Refresh Your Afternoon
Summer's here, which means while a hot coffee in the AM still hits, hot beverages in the afternoon are a no-go. If you're sweating just looking out the window and could use a refresh, try one of these easy summertime infused beverage recipes.
Infused Beverages for Hot Summer Afternoons
My go-to for a LEVO summertime drink is the Honey Ginger Lemonade. It's not only refreshing, but it also has vitamins C, B6, and A from the fresh lemon juice and antioxidants from the ginger and honey, so I feel good about drinking it too. Plus, it's great to serve guests at a barbecue!
Honey Ginger Lemonade Prep Time
1 hour

to infuse your honey with fresh ginger.

2 minutes

to stir your infusion and fresh squeezed lemon juice over ice! 
Another thirst-quenching summertime drink you can make with LEVO is Creamy Strawberry-Mint Infused Italian Soda. Italian sodas are made with carbonated water and flavored simple syrup, but this recipe takes it one step further by adding infused cream for a more float-like drink. Because is it even summer without a float or two?
Creamy Strawberry-Mint Infused Italian Soda Prep Time
30 minutes

to infuse the cream with dried mint. (If you're using fresh mint, you'll need to add some time to run through LEVO's Dry cycle first. Don't worry—it doesn't require any extra dishes.)

20 minutes

to make your sweet strawberry syrup. This syrup stays fresh in the fridge for a few days so you can make this recipe more than once.

2 seconds

to pour it over ice—

bellissimo

!
Infused Beverages for "You Deserve It" Hot Summer Afternoons
If a fizzy soda isn't going to cut it today, try some bubbly instead. Now, I'm not against a regular glass of champagne, but LEVO certainly makes a good argument for infusing a little something extra with the Thyme-Infused Champagne recipe. The thyme infusion is actually frozen into ice cubes, so you can keep them on hand all the time—in case you need an excuse to also keep champagne on hand at all times.
Bonus: You can add your thyme-infused ice cubes to other drinks too! Sparkling water, lemonade, juice. You name it!
Thyme-Infused Champagne Prep Time
3 hours

to dry the thyme if you start with fresh thyme. If you start with dried thyme, you can skip this step altogether!

10 minutes

to make simple syrup. Do this while your thyme dries.

1-2 hours

to infuse the simple syrup with thyme.

2 hours

for infusion to freeze in the freezer.
Using LEVO to Relax Your Evening
When it's time to hit the hay, LEVO can help you relax, unwind, and enjoy a more restful sleep. 
Hot tea can be a powerful sleep aid, especially teas with chamomile, lavender, or lemon balm—all of which have sleep-inducing effects. LEVO gives you the ability to boost those effects because you can use it to Infuse Honey with any herb you like and add it to your tea. You always have the option to infuse with psychoactive flower, something studies have shown may be effective for sleep, but you can also try other sleepy herbs.
Herbs That May Help You Sleep 
Mint

Passionflower

Nutmeg

Cinnamon
Infused Honey Prep Time
30 minutes

to activate

special

herbs if you're using them.

30-120 minutes

to infuse the honey depending on your herb of choice.
With LEVO, you can infuse two cups of honey at a time, so you'll have enough to last you for a while. You can also use that infused oil you made for your AM smoothie in your tea too.
Bonus: Use your infused honey in daytime drinks (and food), too!   
Infused Beverage Recipe Round-Up
Morning Infused Beverages
Afternoon Infused Beverages
Nighttime Infused Beverages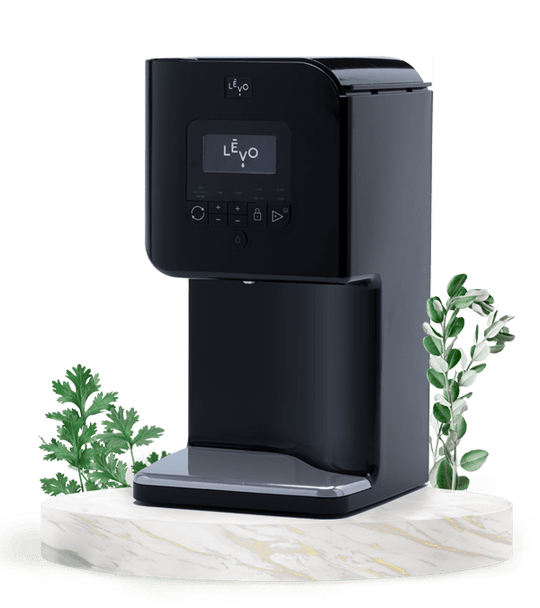 LĒVO II
The worlds first patented oil infuser that lightly dries herbs fresh from your garden, activates their maximum potency, and infuses them into just about anything. Great for daily, small batch, artisanal infusions.
SHOP LĒVO II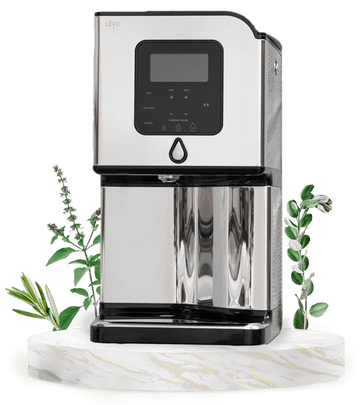 LĒVO LUX
Experience infüsionwith our most elegant, intelligent machine yet: LĒVO LUX. Artfully infuse any herb, spice, fruit, coffee bean, & more into oils, butters, and honeys to create Michelin Star-quality meals.
Shop LĒVO Lux
LĒVO C
LĒVO C is the first large batch infusing solution that is dishwasher safe, has a built-in activation cycle for maximum potency. Perfect for making large 1 liter batches for high frequency users and small businesses.
SHOP LĒVO C
LĒVO oil and butter infusers streamline the oil and butter infusion process, reduce mess, and minimize the smell of decarbing & infusing flower thanks to patented technology. With the ability to decarboxylate + infuse all-in-one machine,LĒVO is the only oil infuser of its kind.
LĒVO oil and butter infusers streamline the oil and butter infusion process, reduce mess, and minimize the smell of decarbing & infusing flower thanks to patented technology. With the ability to decarboxylate + infuse all-in-one machine,LĒVO is the only oil infuser of its kind.