How to Make Infused Edibles Without Butter
As homemade infused edibles become more popular, people are experimenting with ingredients to suit their individual taste preferences, culinary flare, and/or dietary needs. 
Butter is certainly delicious, but there are other healthier options to use in its place. As long as you use an oil high in fats, it's considered a suitable substitute for butter. 
Making these substitutions will allow you to create vegan, low-carb, and Keto compliant edibles using olive, coconut, or avocado oils. 
In this post, we will cover various substitutions for butter and what you need to know about them for your success in the kitchen.    
Why Do I Need A Fatty Oil To Make Homemade Infused Treats? 
It's important you select an oil high enough in fat levels because it plays a key role in the actual infusion process. 
During the decarboxylation process, the heat supports the activation and later, the extraction of the botanicals from the raw flower. Oils with higher saturated fat tend to absorb botanicals more efficiently. This is because the active plant ingredients actually bond to the fats.  
Basic Methods of Extracting botanicals 
One traditional way of extracting botanicals involves soaking activated botanical plant matter in what is called 'carrier oil.' 
Carrier oils deliver the therapeutic properties of active botanical compounds and increase their bioavailability. Coconut, palm, walnut, olive, and other oils can be used as carrier oils when making infused edibles. 
One of the older ways of extracting plant botanicals was to first wrap the plant matter in cheesecloth and then tie it closed with cooking twine. The cheesecloth-wrapped plant matter is then immersed in a heated carrier oil for three to four hours, which removes the botanicals from the plant matter and chemically bonds them to the fat-soluble oil.  
Finding the Right Flower to Oil Ratio for You 
In general, many infused edible recipes call for a flower to butter ratio of one ounce of decarbed and ground flower to roughly one pound of butter or sixteen ounces of oil. You can determine the right potency for you by adjusting the flower to carrier oil portions. 
Calculating Botanicals-to-Oil Ratio  
You can estimate how concentrated or potent your botanicals might be by using the following sample calculation and making the necessary adjustments: 
½ ounce of decarbed, or activated flower to 8 ounces of oil. This is a general rule of thumb to consider- adjust as desired. 
Based on the amount of flower you have to use, you will calculate and adjust the amount of oil needed. For example, an ⅛ of an ounce is a commonly used unit, so if you had 3.5 grams available to try a recipe, you would need at least two ounces of oil. 
Many consider this old-school formula reliable for estimating your botanical's potency, but some prefer using home infusers for greater accuracy, efficiency, and control- like you can achieve using the LĒVO II. 
Home oil infusers also promote consistent medicinal dosing. If you are going to regularly make your own infused edibles, this kind of equipment is a worthwhile investment. 
Over a short amount of time, depending on your needs, the LĒVO II machine provides a cost, material, and time-effective benefit for making incredible, evenly infused culinary creations.  
Infused Coconut Oil 
Coconut oil is a popular carrier-oil choice for making your dream infusions that can be used in anything from healthy entrees, dressings, and desserts. One of the reasons is, that it is high in saturated fat. 
Some of the suggested benefits of using coconut oil can include improved metabolism, skin health, and even enhanced cognitive function. 
If you use coconut oil, be prepared to scoop the solid substance out of the jar. However, it quickly becomes liquid when even a little bit of heat is applied. 
Scoop out the coconut oil and fill a measuring cup until you have the amount needed for the recipe. You can then follow directions for activating and decarbing the raw flower, and prepping it for your infusion.  
Tips for Using Butter Free Edible Ingredients
You can experiment with other substitutes and make adjustments to ingredients, flavors, strains, and potency levels with each round of baking or cooking. Let your imagination run wild!
Saffron, walnut, and MCT oil are some other oils to consider. They can greatly impact the flavor profile of a recipe and take it to a whole new level. 
You may find some oils easier to work with than others, so record your observations about consistency, ingredient combinations, and medicinal effects that you would like to repeat in future infused cooking attempts. 
This process will help you identify your favorite oils and any standout recipes you would like to keep close at hand.  
Are you ready to expand your repertoire of culinary arts into the world of home infusions? 
LĒVO has a library of recipes, educational content, calculators, photos, and MORE available on our website, or visit us on YouTube to see videos of recipes and our products in action!. Not sure where to start? Take the LĒVO Quiz to see which machine is right for you!" #LĒVOmade
Shop Now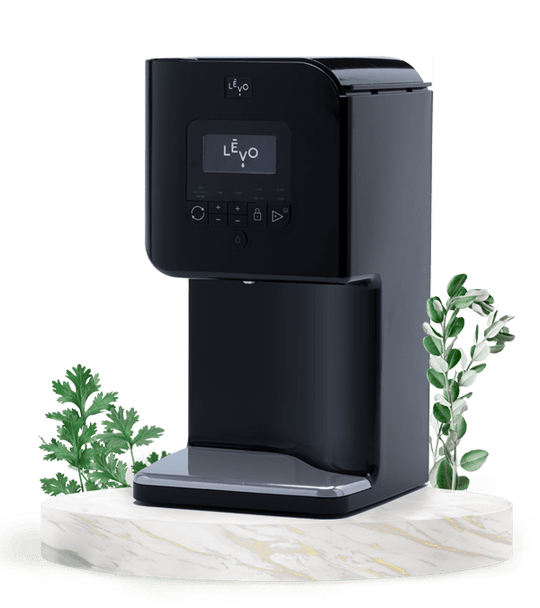 LĒVO II
The worlds first patented oil infuser that lightly dries herbs fresh from your garden, activates their maximum potency, and infuses them into just about anything. Great for daily, small batch, artisanal infusions.
SHOP LĒVO II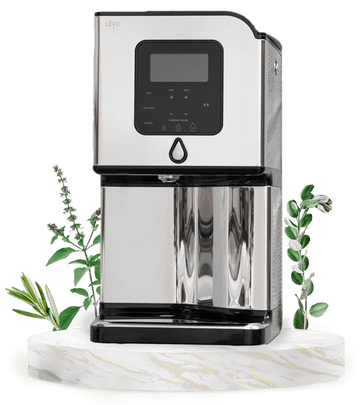 LĒVO LUX
Experience infüsionwith our most elegant, intelligent machine yet: LĒVO LUX. Artfully infuse any herb, spice, fruit, coffee bean, & more into oils, butters, and honeys to create Michelin Star-quality meals.
Shop LĒVO Lux
LĒVO C
LĒVO C is the first large batch infusing solution that is dishwasher safe, has a built-in activation cycle for maximum potency. Perfect for making large 1 liter batches for high frequency users and small businesses.
SHOP LĒVO C
LĒVO oil and butter infusers streamline the oil and butter infusion process, reduce mess, and minimize the smell of decarbing & infusing flower thanks to patented technology. With the ability to decarboxylate + infuse all-in-one machine,LĒVO is the only oil infuser of its kind.
LĒVO oil and butter infusers streamline the oil and butter infusion process, reduce mess, and minimize the smell of decarbing & infusing flower thanks to patented technology. With the ability to decarboxylate + infuse all-in-one machine,LĒVO is the only oil infuser of its kind.