10 Health Benefits of Jojoba Oil
Originally, Native Americans extracted the oil to treat sores and small wounds. It is currently used for cosmetics, hair care products, lotions, moisturizers, and some pharmaceuticals. It has also been used as a lubricant for a number of different applications.
Some Of The Applications For Jojoba Oil Include:
It soothes irritated and eczema-prone skin. Jojoba oil contains vitamin E and iodine. It can alleviate inflamed or otherwise irritated skin, including skin with eczema. Just put a dot of jojoba oil on the affected area and rub it in thoroughly.


It helps wrinkled and aging skin.

The vitamin B complex and vitamin E contained in jojoba oil are good for repairing aging skin. Just rub some into your clean skin in the morning and before bedtime. Over time, your skin will glow.

The jojoba oil fights off free radicals and repairs cell damage. 


It moisturizes the skin. Jojoba oil acts just like skin's natural oils, which is why it is an excellent moisturizer. It helps to balance the body's oils when applied to the skin. The best way to use jojoba oil as a moisturizer is to apply it right after cleansing and let it be completely absorbed. You can even add jojoba to your current, favorite moisturizer as an additional boost.


It relieves sunburns. Jojoba oil can be used to soothe sunburns and repair sun-damaged skin. The symptoms of sunburn are relieved by vitamin E and other antioxidants, in addition to the moisturizers in jojoba oil. Rub some on the sunburn and quickly feel the relief.


Treatment of psoriasis. An overactive immune system can be the cause of psoriasis, and it can leave your skin dry, inflamed, and flaky. Jojoba oil can reduce the inflammation in the skin and, for some people, helps to relieve the pain.


Dandruff prevention. Jojoba oil effectively creates a moisture barrier around the skin to help retain necessary moisture. Dandruff is essentially a result of a dry, itchy scalp that sheds dead skin flakes. Using jojoba oil on your scalp can help minimize this discomfort.






It has anti-bacterial properties that fight acne. Jojoba oil helps control oil production in the skin while also preventing bacteria in the pores of the skin that creates acne. Jojoba has iodine in it, which is an important element necessary for a healthy body.


It nourishes dry lips and softens rough finger and toenails. Jojoba has a lot of fatty acids in it, which makes it a good treatment for rough-looking, or sore cuticles. Just place a small drop on the problem cuticle and rub it in. Jojoba has several nourishing vitamins and minerals that can help heal dry, cracked lips. It is absorbed and used by the body almost immediately, so it will not leave your lips greasy looking.


It boosts the skin's glow. Dull, dry, 'ashy' looking skin is often due to dehydration. Use a few drops of jojoba oil first thing in the morning and before you go to bed. It will be absorbed quickly and not leave any residue. 


A moisturizing conditioner for hair.

Many shampoos and hair conditioners use jojoba oil in their products. You can supplement your current hair care products with a small amount of jojoba to increase the silky moisturizing capabilities of the products you use.
Some people may experience an allergic reaction to jojoba oil. Symptoms include an itchy rash, red skin, hives, and, in severe cases, it can close the airway and obstruct breathing. 
If you have a reaction to it, stop using it immediately. If your breathing becomes impaired, immediately consult your doctor. The best way to determine whether you may have an allergy would be to put a small amount of it on your skin to see if you have a reaction. If so, do not use jojoba oil. 
You can make your own skin and hair care products using jojoba oil and the LĒVO II infusion machine. The infuser allows you to place herbs, flowers, and other fragrant botanical ingredients in the LĒVO II, add jojoba oil and any other carrier oil you like and then simply infuse the oil. 
Note: Here's our infusion calculator, but you can adjust most of the settings to best fit your application.
You could create a cup of well-infused lavender oil that you rub into your skin for hydration. Or how about your own eucalyptus and jojoba infusion that smells great, moisturizes the skin, relaxes you, and even eases skin pain. It's all possible with the LĒVO II. 
The LĒVO II infusion machine is exactly the right tool to enable you to get the most out of your jojoba oil. Try it today. Your skin will thank you.
Isn't it time to expand your repertoire of culinary arts into the world of home infusions? LĒVO has a library of recipes, educational content, calculators, photos, and MORE available on our website, or visit us on YouTube to see videos of recipes and our products in action!. Not sure where to start? Take the LĒVO Quiz to see which machine is right for you!" #LĒVOmade
Shop Now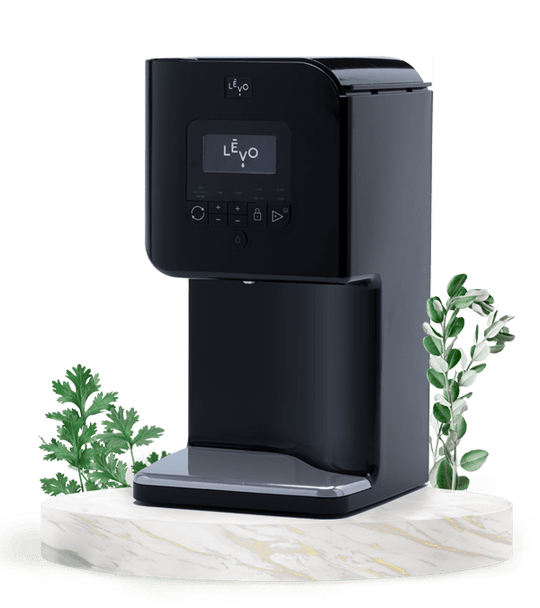 LĒVO II
The worlds first patented oil infuser that lightly dries herbs fresh from your garden, activates their maximum potency, and infuses them into just about anything. Great for daily, small batch, artisanal infusions.
SHOP LĒVO II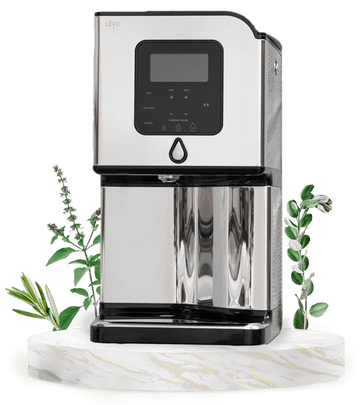 LĒVO LUX
Experience infüsionwith our most elegant, intelligent machine yet: LĒVO LUX. Artfully infuse any herb, spice, fruit, coffee bean, & more into oils, butters, and honeys to create Michelin Star-quality meals.
Shop LĒVO Lux
LĒVO C
LĒVO C is the first large batch infusing solution that is dishwasher safe, has a built-in activation cycle for maximum potency. Perfect for making large 1 liter batches for high frequency users and small businesses.
SHOP LĒVO C
LĒVO oil and butter infusers streamline the oil and butter infusion process, reduce mess, and minimize the smell of decarbing & infusing flower thanks to patented technology. With the ability to decarboxylate + infuse all-in-one machine,LĒVO is the only oil infuser of its kind.
LĒVO oil and butter infusers streamline the oil and butter infusion process, reduce mess, and minimize the smell of decarbing & infusing flower thanks to patented technology. With the ability to decarboxylate + infuse all-in-one machine,LĒVO is the only oil infuser of its kind.