Meet LĒVO C:
The Large Batch
Herbal Infuser.

Decarb + Infuse 1 ounce of dry herbs into 1 liter of liquid.

As Featured In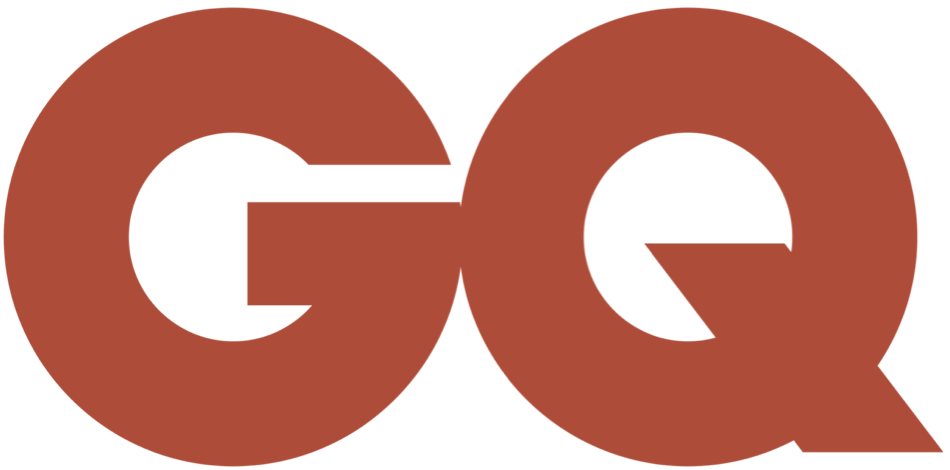 No matter your herb of choice, LĒVO C makes it easy to infuse large batches of oils, butters, honeys, vegetable glycerin and more!
02
Precise time and temperature controls let you tailor INFUSE settings to your preference and replicate your favorites, again and again!
Here's What LĒVO C Customers And Users are Saying...
I've researching infusion machines for months and came across the Levo family of products. I was about to purchase a Levo II but changed my mind once the price increased. Shortly after I saw the Levo C being advertised and after watch 1 review video I was sold and placed my order immediately. Just completed my first infusion and can't wait to do many many many more.
I am loving the levo c. So easy to use and easy to clean. I have Infused several different things and all came out perfect strength wise but taste great as well! I also worked with customer service a bit and they were wonderful. Very Quick to resolve the issue. Shipping was fast and the packing box was nice and sturdy so no fear of damage. Enjoy!"
This is great I decarbed half oz. Then infused my oil mad brownies great product better than I thought unbelieveable love my LEVO C I bought an extra canister it can hold 1 oz. No lie !
"Great capacity and save me a ton of work when infusing. Produces a very clean end product."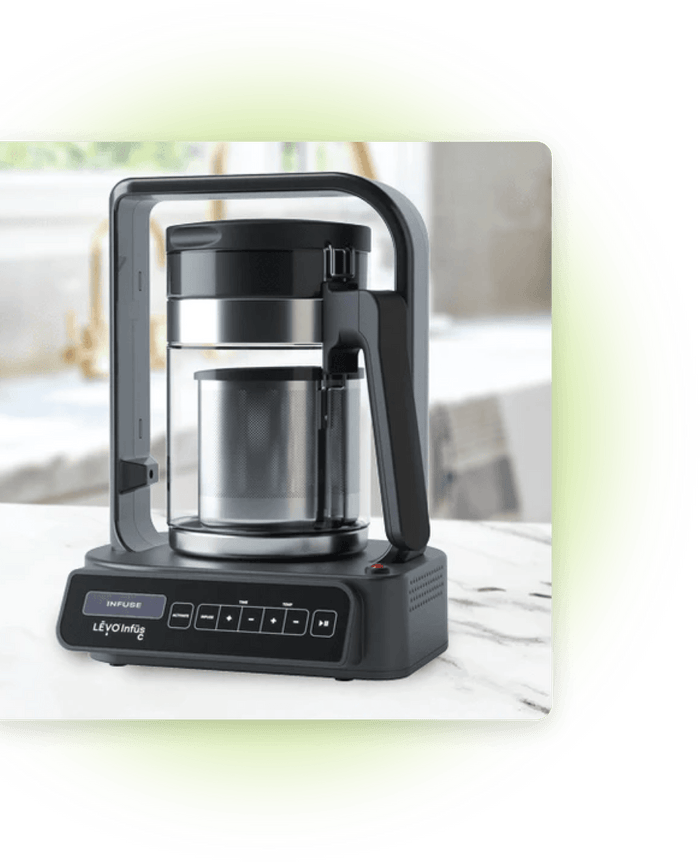 You'll like what you see.
With a streamlined design, smaller footprint, and a transparent dishwasher-safe glass chamber offering 4x the capacity of LĒVO II, it's the perfect device for activating and infusing your dried, large-batch herbal creations right at the kitchen countertop.
Large batch infusions made easy.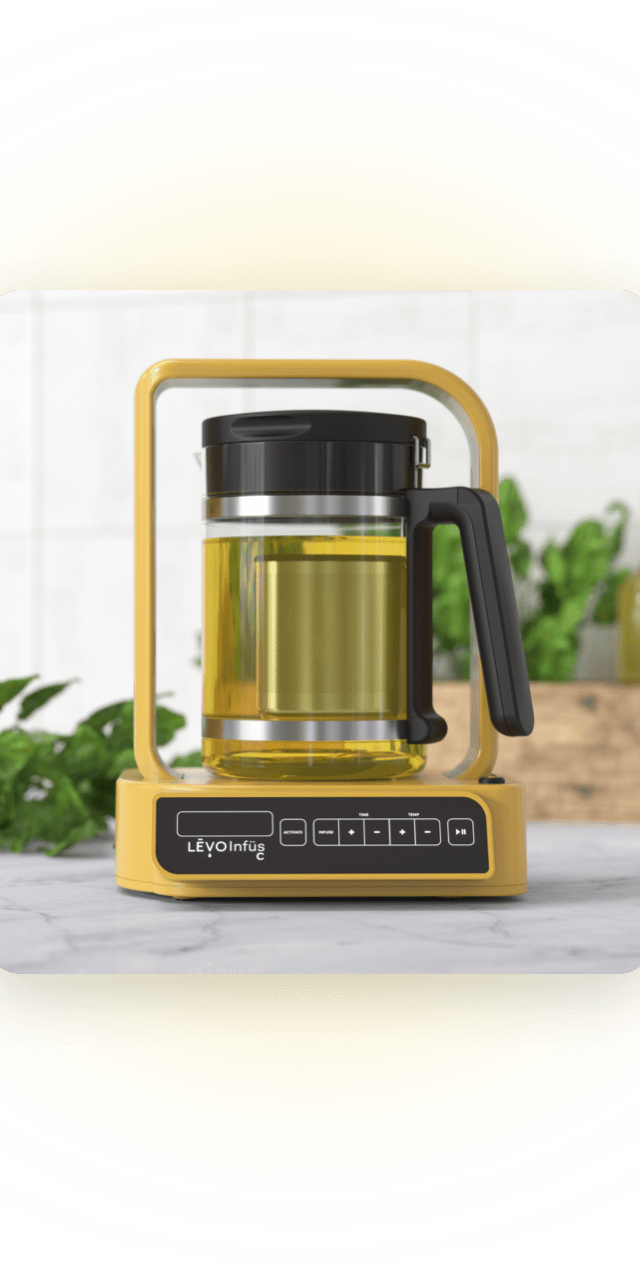 Infuse 1 litre (33.8oz) of oil or butter with up to 1oz of herb with the Jumbo Pod. 
It also doubles as a storage solution, great for meal prep and stashing away those larger batches.
Heats and regulates temperature, giving you the exact infusion every time.
Infusion without aeration or blades, improving shelf life.
Basin doubles as a storage container
Easy setup and simple controls featuring Activate (decarb) and Infuse modes.
1L glass basin
Touch screen user interface.
Don't Buy a LĒVO...
TRY a LĒVO!
All of our LĒVO C machines come with a 30-day money back guarantee.
So don't decide now.
Get the LĒVO C that's perfect for you and test-drive it fully, for 30 days, and then decide whether you want to keep it or not.
If you don't absolutely love it, just send it back to us, and we'll send back your money... promptly, gladly, with no questions asked, and no hassles for you!
We want you to be happy with LĒVO. 
And we want you to be able to try it, with no risk.
So, don't buy a LĒVO, TRY a LĒVO for 30 days!
Frequently Asked Questions
"Dry" and "Dry+" are for garden fresh herbs and spices: basil, garlic, rosemary, lemon peel. "Activate" is decarboxylation and is only needed for flower. Flower you buy from the store is already dried, and freshly grown flower can be cured with traditional methods like hang-drying.
Yes, there is a 1 year limited manufacturer's warranty on all LĒVO infusion machines. An extended warranty can be purchased during checkout, or within 90 days of purchase.
LĒVO II's airtight seal helps to contain the smell of whatever herbs you're using. With the lid closed the smell is minimal, but when the lid is opened it will release the aroma. LĒVO Lux's fan vent lets out slightly more smell than LĒVO II, and LĒVO C is not airtight, so it lets out more smell during the Activate cycle but is still minimal compared to an oven.
LĒVO is the first and only patented all-in-one set it + forget it decarb + infusion machine. We've streamlined and automated the traditional method of oil and butter infusion that's usually messy, tedious, and even dangerous (fire hazards are real!) Our gentle infusion method doesn't aerate your ingredients (no chopping, blending, or air bubbles added), increasing the shelf life and improving the taste of your infused product. All LĒVO machines are quiet and they reduce the smell of flower infusion significantly. No oven, accessories, or straining required because LĒVO's Herb Pods keep your herbs in one place. And when it's all done, all components are dishwasher safe.
Make anything: Magical brownies, elevated gummies, delicious desserts, gourmet gifts, pain-relieving salves, sleep-inducing tonics, and more. Keep health and wellness top of mind by controlling the purity and potency of what goes in – and on – your body, all the way down to the last drop.
Herb goes in the pod. Pod goes in the machine. Push buttons to Activate flower. Add the magnetic stirrer and your oil, butter, honey, milk, glycerin etc. to the basin. Push buttons to Infuse. Dispense without straining. Put everything in the dishwasher. Repeat.
We get this a lot. Yes, our customers say so! Our machines are an investment that pay off within a handful of uses, especially if you buy now and pay later with our pay-in-four interest-free option, Sezzle. You'll notice a cost-savings difference when you switch to LĒVO made. And if you're still not sure, we offer a 30 day return period on machines.