What Are The Best Butter Brands to Use With LĒVO?

Butter is a simple ingredient that can significantly impact your recipes. You can use just about any brand or homemade butter with your LĒVO home infusion machine, but a few brands stand out from the others as especially useful for making herb-infused butter. Three main factors should determine your choice of butter for infusion purposes: 
A high-fat content percentage (at least 80%)

The type of recipe (80% for entrees and butter with the highest possible fat content for desserts)  

Your personal taste preferences, or dietary needs 
High-fat content in butter has a notable effect on taste and texture. In addition, the higher fat content facilitates the infusion process. A closer review of some popular brands can help you decide on the right butter for your cooking plans. 
Cultured, European style, organic, grass-fed, unsalted, and salted are common terms used to categorize different types of butter. 
Land O'Lakes
This American butter has been one of the most popular brands in the U.S. for decades. Land O'Lakes Butter is made from pasteurized cream, and it is gluten-free and Kosher compliant. It is a good all-around butter for everything from breakfast recipes to desserts. The original version of this salted butter has a fat content of roughly 80%, but Land O'Lakes released a European Style butter with 82% fat content.
Cabot 
Cabot Creamery is a Vermont-based company that makes hormone-free and antibiotic-free cheese, butter, and other dairy products. Cabot butter's 80.6% fat content makes it a good choice for making creamy pasta sauces and vegetable casseroles. Cabot butter is a good multi-purpose butter, but you might want to use higher fat content butter like Plugra and Kerrygold for desserts. 
Plugra 
This European-style butter is the preferred choice for making pastries and sauces. Plugra has an 82% fat content, and high butterfat means lower moisture levels. These conditions contribute to outcomes like flaky pastry crusts and spongy, moist bread. Plugra claims that its butter offers consistent performance when baking and cooking. Plugra also has no artificial additives. 
Kerrygold
Kerrygold Irish Butter is one of the top-selling brands of butter in the United States. It is made from the milk of grass-fed cows and has a butterfat content of 82%a. Kerrygold is more affordable compared to many European kinds of butter. This premium Irish butter costs about $4.30 and is sold in chain stores like Target and major supermarkets.   
Organic Valley 
This company has a limited-edition butter that is made during the pasture-grazing season from May to September. It has a very high butterfat content (84%). So, this organic option would be a perfect choice for dessert recipes. Organic Valley products are hormone, pesticide, and GMO-free. 
Tips for Choosing Butter for Infusing
There are so many great kinds of butter to pick from. It's recommended to try different brands for different types of recipes. For instance, you may prefer Plugra for dessert recipes but find Land O'Lakes or Organic Valley better when regularly making infused entrees. 
You can also use the less expensive butter in recipes where there are many ingredients that might overpower the butter flavor. For example, you can use Land O'Lakes for your oatmeal cookie recipe but save the more costly Kerrygold for recipes like garlic shrimp, where butter is one of the dominant flavors. 
Decarboxylating Raw Flower
Note: Decarbing and infusing are made so much easier when you use LĒVO machines. If you already have a LĒVO, you can skip down to the main steps of the recipe.
If you don't have a LĒVO yet (and why not?) but still want to explore your butter infusing option by trying the old-school methods, you can find those oven decarbing and stovetop infusing instructions here.
As you gain more experience using different butter brands, you may need to make slight adjustments to your process of making infused butter- this can be especially difficult when using the oven and stovetop. Take a look at our time and temperature calculator to get a better idea of just how flexible this quality machine is. 
You may find that some brands might require a lower heat for simmering and more frequent stirring. The higher the butterfat content, the quicker the butter will melt. 
Part of the fun in the kitchen is experimenting and trying new ingredients until you decide which ingredients you like best. And when you do, make sure to share what you make with @LEVO_Oil and be sure to tag it as #LEVOmade.
Isn't It Time To Expand Your Repertoire Of Culinary And Craft Arts Into The World Of Home Infusions? 
LĒVO has a library of recipes, educational content, calculators, photos, and MORE available on our website, or visit us on YouTube to see videos of recipes and our products in action! Not sure where to start? Take the LĒVO Quiz to see which machine is right for you! #LĒVOmade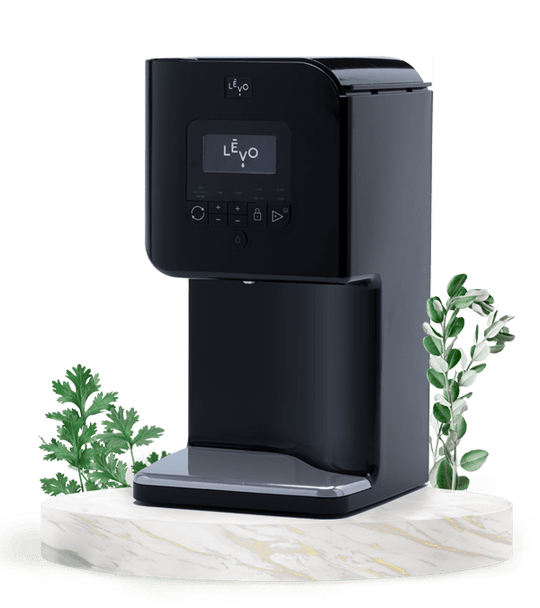 LĒVO II
The worlds first patented oil infuser that lightly dries herbs fresh from your garden, activates their maximum potency, and infuses them into just about anything. Great for daily, small batch, artisanal infusions.
SHOP LĒVO II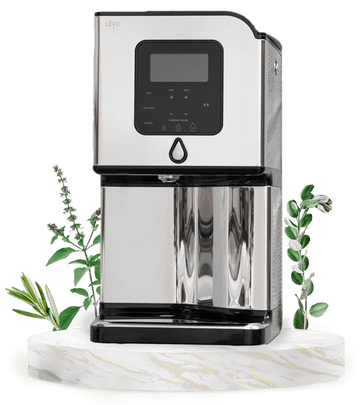 LĒVO LUX
Experience infüsionwith our most elegant, intelligent machine yet: LĒVO LUX. Artfully infuse any herb, spice, fruit, coffee bean, & more into oils, butters, and honeys to create Michelin Star-quality meals.
Shop LĒVO Lux
LĒVO C
LĒVO C is the first large batch infusing solution that is dishwasher safe, has a built-in activation cycle for maximum potency. Perfect for making large 1 liter batches for high frequency users and small businesses.
SHOP LĒVO C
LĒVO oil and butter infusers streamline the oil and butter infusion process, reduce mess, and minimize the smell of decarbing & infusing flower thanks to patented technology. With the ability to decarboxylate + infuse all-in-one machine,LĒVO is the only oil infuser of its kind.
LĒVO oil and butter infusers streamline the oil and butter infusion process, reduce mess, and minimize the smell of decarbing & infusing flower thanks to patented technology. With the ability to decarboxylate + infuse all-in-one machine,LĒVO is the only oil infuser of its kind.