How Is LĒVO Different from Other Infusion Machines?
Would you use a noisy soy milk maker to infuse your favorite herbs, sacrificing taste and mess-free simplicity? 
Many other infusion machines weren't in fact invented and patented specifically for decarbing and infusing herbs into oil and butter. Rather, they are repurposed off-the-shelf devices marketed for herbal infusion. Though they can get the job done to some extent, their design and purpose was not intended for working with herbs and botanicals at all. In an effort to meet the specific needs of flower and herbal infusion, LĒVO infusion machines are designed with gentle, bladeless infusion to balance taste and potency.
Crock pots and over-simplified alternative infusion machines lack time and temperature precision control. In fact, you're even left guessing how hot your infusion is and when it will be ready. LĒVO was created by engineers for the perfect default decarb cycle. By removing the guesswork and offering customizable controls, the opportunity for creative infusion is completely open to you! Infuse a wide variety of herbs, spices, and fresh ingredients into a range of liquids including but not limited to oils, butters, milks, honeys and more.. Set it & forget it - then dispense with one simple press of a button when it notifies you that your infusion is complete!
Old school methods of decarbing and infusing are messy and can really stink up your house. Cooking oil on a stovetop for hours comes with its own set of dangers, too! LĒVO is the only machine that's all-in-one - no accessories, straining, or filtering required. Each LĒVO box contains everything you need to decarb and infuse discreetly at home. And when it's all done, every piece is dishwasher safe. You'll save time and money by choosing LĒVO.
Why Choose LĒVO?
LĒVO machines make infusing oil and butter fun and easy! We want you to stretch your creative wings and create mouthwatering and flavorful infusion combinations that you and your family and friends are sure to enjoy. Whether you are new to the infusion game or have been infusing for years, LĒVO is the perfect machine for addressing your needs and preferences. Finding the right product for your budget, preferences, and infusion style is simple.  
The LĒVO II is a great all-around model, perfect for beginners and seasoned infusion artists. It comes in a rainbow of color options and fits neatly on any kitchen countertop. The LĒVO II has a dry mode, and it also includes an activate or decarboxylation mode. The dry mode is wonderful to use if you're working with fresh herbs or flowers. Because moisture is one of the biggest hindrances on edible shelf life, utilizing this setting can have a great impact on extending the shelf life of your unique creations.The machine also has time and temperature controls that let you take charge of the infusion process and customize your creations. Paired with LĒVO's herbal calculator, the process of infusion has never been easier. 
The LĒVO II comes with a ceramic coated reservoir with a 16-ounce capacity, and best of all, all the components are dishwasher safe and easy to clean. You can even add another 8-gram power pod to the LĒVO II to increase the potency of your infusions. Without the fan addition that the Lux offers, LĒVO II is the machine that cuts down on odor the most so it is ideal for small spaces or situations where smell is an issue.
The LĒVO Lux model is available in high-end metallic finishes and makes an attractive addition to any kitchen. The LĒVO Lux takes the best aspects of the LĒVO II and kicks them up a notch. This model features an improved dry+ cycle. The dry+ is a micro-HVAC system that can dry herbs up to three times faster than the LĒVO II. It also has three unique dispensing modes and a redesigned lid that helps reduce noise while the machine is in use. 
Like the LĒVO II, the LĒVO Lux also utilizes a ceramic-coated reservoir with a 16-ounce capacity. You can also add an additional power pod to the system. 
The final offering in the LĒVO family line-up is the LĒVO C. The LĒVO C comes in a variety of colors and makes infusing large batches of oil, butter, honey and more easy and less time-consuming. This model infuses up to 1 liter of oil or butter with the touch of a button. It also utilizes a jumbo pod that quadruples the herb capacity of the LĒVO II and LĒVO Lux models. You can fit up to 1 ounce of herb into this jumbo power pod, making big batch infusions for all your gifting or buzzing business needs simple and easy. The glass basin is easy to clean, and all removable parts are dishwasher-safe. 
Whether you want to make a small batch or large quantities of an infusion, whether you own a business or want to make infusions for personal use, there is a LĒVO model that will meet your unique needs. 
How Is LĒVO Different from Other Infusion Machines?
There are times when going generic makes sense. However, when it comes to household appliances you will use again and again, it pays to invest in quality. There are plenty of other infusion machines on the market. However, these machines don't hold a candle to the LĒVO family of infusion products. 
What makes LĒVO so unique? Quality you can count on every time you turn on your machine! The LĒVO family of infusion machines leverages intelligent design with cutting-edge technology to create a series of infusion devices that are functional, easy to use, and even easier to maintain. With technology built to reduce moisture and aeration, LĒVO machines make edibles that will outlast any other method or device! While other products on the market check one or two of these boxes, they can't compare to the efficiency, style, and functionality of LĒVO. 
LĒVO machines can save you time and money by allowing you to create your favorite high-quality infusions at home. You don't have to spend a fortune on gourmet infusions and you don't have to run around town trying to find your favorite flavor blend. With LĒVO, you get consistent, flavorful results every time. 
Still hesitant about the LĒVO family of products? We encourage you to do your homework. Publications like New York Magazine and influential blogs have named LĒVO the best herbal infusion machine on the market today. You can also learn more about the differences between the machines to find the one that is right for you here.
The LĒVO family of infusion products has been designed with one person in mind – you. LĒVO infusion machines are easy to maintain and will deliver quality results time after time. In addition, when you join the LĒVO family, you aren't just getting a high-quality infusion machine. When you purchase a LĒVO, you are gaining access to a unique community that values your feedback and ideas. Look up original LĒVO recipes to learn more about the infusion process and get your creative juices flowing. Access the growing library of LĒVO video content featuring how-to videos and step-by-step guides. You can even join the exclusive LĒVO Love Club, a private Facebook group, where LĒVO users are sharing tips, tricks, and recipes daily!
LĒVO is more than a family of infusion machines. It is a family of people who stand behind a product - dedicated to helping you make the most of your time and money in the most flavorful way possible.
Shop Now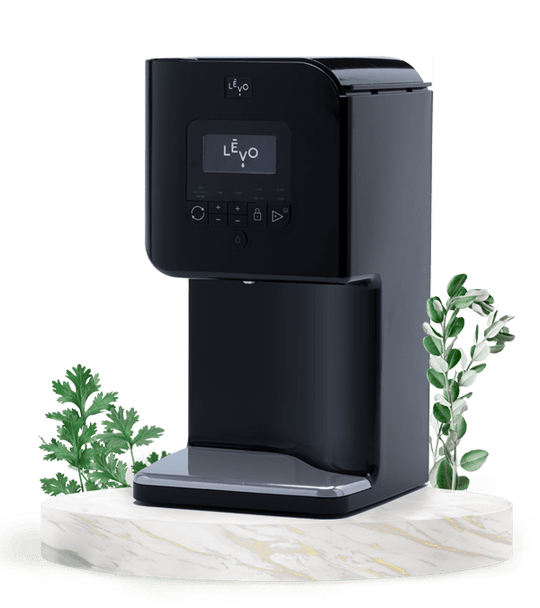 LĒVO II
The worlds first patented oil infuser that lightly dries herbs fresh from your garden, activates their maximum potency, and infuses them into just about anything. Great for daily, small batch, artisanal infusions.
SHOP LĒVO II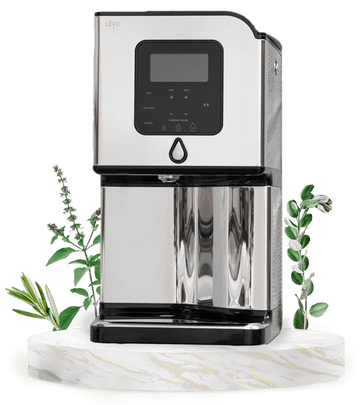 LĒVO LUX
Experience infüsionwith our most elegant, intelligent machine yet: LĒVO LUX. Artfully infuse any herb, spice, fruit, coffee bean, & more into oils, butters, and honeys to create Michelin Star-quality meals.
Shop LĒVO Lux
LĒVO C
LĒVO C is the first large batch infusing solution that is dishwasher safe, has a built-in activation cycle for maximum potency. Perfect for making large 1 liter batches for high frequency users and small businesses.
SHOP LĒVO C
LĒVO oil and butter infusers streamline the oil and butter infusion process, reduce mess, and minimize the smell of decarbing & infusing flower thanks to patented technology. With the ability to decarboxylate + infuse all-in-one machine,LĒVO is the only oil infuser of its kind.
LĒVO oil and butter infusers streamline the oil and butter infusion process, reduce mess, and minimize the smell of decarbing & infusing flower thanks to patented technology. With the ability to decarboxylate + infuse all-in-one machine,LĒVO is the only oil infuser of its kind.