10 Ways to Utilize Coconut Oil at Home
Coconut oil is amazingly versatile. It can improve your nutrition and health, both internally and externally.
As a topical, it is useful for skin and hair care, and even has several applications for cleaning. 
Coconut oil is also commonly used to create edibles with infused oil- in fact, it's a favorite. This oil works great with gummies and other recipes.  Many people think it tastes better than using flower-infused butter. 
It's considered that some of the amazing health and nutritional benefits of coconut oil are:
Helps improve the immune system

Supports the growth of strong bones and teeth

Can improve the digestive system/function in the bowels

It can help reduce inflammation

It can improve the functioning of the thyroid gland


Health and Nutritional Benefits of Coconut Oil
A closer look at some of the ways coconut oil can be good for you.
Cook at high temperature.

Frying can be done safely with coconut oil. The reason is that roughly 87 percent of the fat in coconut oil is saturated, which means the oil will remain structured when heated to a high temperature. Other oils, such as olive, corn and sunflower oils, can become toxic at high temperatures. 
Also, you can stir fry foods quickly at a high temperature, which is always best for stir-frying so that the nutritional benefits aren't cooked out of the ingredients. The coconut oil also adds a slight taste of coconut, which works well for many dishes.
Improve brain function

. Coconut oil contains

medium-chain triglycerides (MCTs) that can be broken down and turned into an energy source for the brain. Studies have found that MCTs can have benefits for brain disorders like Alzheimer's and epilepsy. We're sure you've heard of MCT oil.
Increase high-density lipoproteins

. While coconut oil can increase cholesterol in some people, a more typical effect is to increase high-density lipoproteins or 'good cholesterol.' The MCTs can also decrease hunger (a benefit when intermittent fasting). A high MCT diet can reduce calorie intake and eventually, lead to weight loss.
Increase bone health. Studies have shown that adding virgin coconut oil to your diet can neutralize free radicals, which can damage bones.
Quick energy source

. The MCTs in coconut oil go to the liver directly from your stomach, where they become a quick source of energy that does not increase blood sugar. This can help regulate blood sugar levels.
How to Increase the Coconut Oil Consumption in Your Diet
Add coconut oil to smoothies, yogurt, soups, and hot drinks. Melting the coconut oil is preferred when adding it to cold products, so it doesn't clump up. Stir thoroughly as you slowly add it.
Do you already drink coconut milk? You can see and taste the coconut oil in the milk. You can drink it as a beverage, in smoothies, and also in baked goods as a substitute for milk or other dairy ingredients.

Using Coconut Oil as a Moisturizer for Skin and Hair.
Coconut oil is an excellent, gentle moisturizer for skin, including face masks, as well as for your hair. You can add a teaspoon of it to your bath water to get a full-body moisturizing experience. You can also use coconut oil as a hair and scalp treatment. 
Use a tablespoon of oil and rub it into your hair and scalp thoroughly. Leave it in your hair for an hour, then shampoo your hair. 
The effect will be to prevent your hair from breaking and keep your scalp from drying. Additionally, dandruff can be caused by a fungus that can be treated with coconut oil. To treat, rub the oil onto your scalp and avoid hot showers that can dry out the scalp and promote dandruff.
Making Edibles with Coconut Oil
One of the most fun things to do with coconut oil is to infuse it with botanicals and bake or make (no-bake) candies and gummies with it. It is important to decarboxylate (decarb) the flower before infusing it to get the maximum effects. 
Part of the genius of working with the LĒVO II infusing machine is that it can take care of both the decarbing AND the infusing. Eating raw, 'unactivated' flowers won't give you the effects you probably want. 
Isn't It Time To Take A Closer Look At A  LĒVO II?
Ready to learn more about the growing art of home infusion? LĒVO has a library of recipes, educational content, calculators, photos, and MORE available on our website, or visit us on YouTube to see videos of recipes and our products in action!. Not sure where to start? Take the LĒVO Quiz to see which machine is right for you!" #LĒVOmade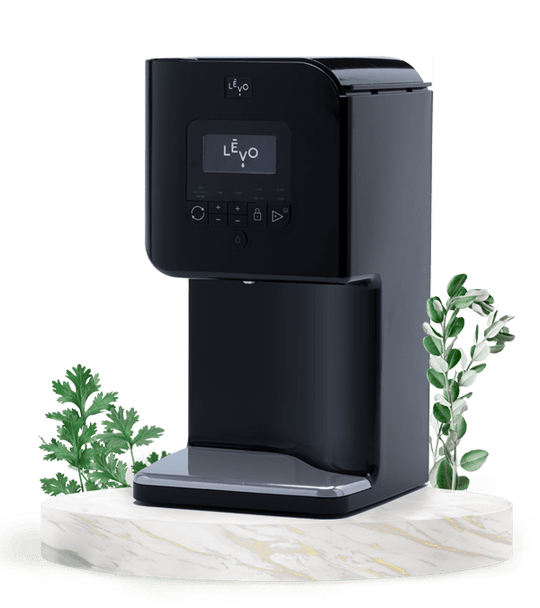 LĒVO II
The worlds first patented oil infuser that lightly dries herbs fresh from your garden, activates their maximum potency, and infuses them into just about anything. Great for daily, small batch, artisanal infusions.
SHOP LĒVO II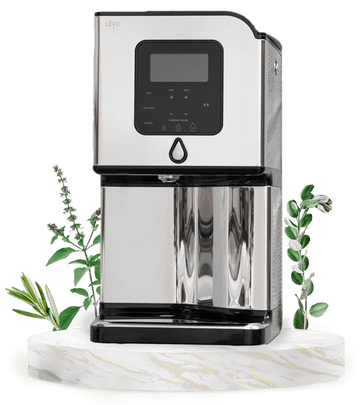 LĒVO LUX
Experience infüsionwith our most elegant, intelligent machine yet: LĒVO LUX. Artfully infuse any herb, spice, fruit, coffee bean, & more into oils, butters, and honeys to create Michelin Star-quality meals.
Shop LĒVO Lux
LĒVO C
LĒVO C is the first large batch infusing solution that is dishwasher safe, has a built-in activation cycle for maximum potency. Perfect for making large 1 liter batches for high frequency users and small businesses.
SHOP LĒVO C
LĒVO oil and butter infusers streamline the oil and butter infusion process, reduce mess, and minimize the smell of decarbing & infusing flower thanks to patented technology. With the ability to decarboxylate + infuse all-in-one machine,LĒVO is the only oil infuser of its kind.
LĒVO oil and butter infusers streamline the oil and butter infusion process, reduce mess, and minimize the smell of decarbing & infusing flower thanks to patented technology. With the ability to decarboxylate + infuse all-in-one machine,LĒVO is the only oil infuser of its kind.